To bulk up means to gain bodyweight with the primary goal of gaining muscle.
There is a lack of quality diet advice out there for people trying to bulk. 'Eat more!' lacks the detail and finesse to optimize things, 'Calculate your protein, carb, and fat macros, then just train hard!' misses a fundamental point — as we advance, calorie and macronutrient needs change, and adjustments are necessary to keep us progressing.
For this reason, we can't just use a macro calculator and expect to get jacked and juicy without adjusting anything thereafter.
Sure, it's a good place to start but you'll get stuck pretty quickly. Perhaps you've experienced this already and that's why you are here?
👉🏻 How much more should we eat? Of what macro?
👉🏻 Do macros matter?
👉🏻 How do I minimize fat gain?
👉🏻 How do I know when I should adjust my food intake?
You have these questions and many more. This guide has your answers. It's something people had been bugging me to write for years, but I didn't feel that I had enough experience to do so without merely parroting things I had read elsewhere and applied to only a handful of clients.
I'm glad that I waited, as coaching a lot of people how to bulk up is the only way I could find out what stuff matters vs. what doesn't, and come up with my own way of doing things.
This is detailed because it needs to be if you're going to do this right. But it will save you months of wasted effort down the line. I hope you find it interesting as well as practically helpful when choosing how you wish to bulk up and implementing it successfully.
---
CONTENTS
Who this guide is for:
This is a guide to adjusting for a bulk. I have a separate Nutrition Setup Guide, Training Guide, Bulking vs. Cutting guide. This is for:
Those that have finished their cut and are looking to turn it around into a bulk.
Those that are currently bulking but have stopped gaining weight and aren't sure how to make further changes to keep progressing.
Those that have made an initial setup calculation for their bulk and are wondering what comes next.
---
PART 1: FACTORS THAT DETERMINE THE RATE WE CAN GAIN MUSCLE AS WE BULK UP
If you understand the important factors for muscle growth, you'll be able to troubleshoot if you run into any issues. So, pay special attention to this section, because you may find the solution to your problems right here.
There is a limit to the amount of muscle mass that we can grow. This is different for everyone.
What is true to all is that the first year of serious training will earn you the biggest gains, with diminishing returns after that. This means that you can look great after just a few years of training, and those years will give you the greatest rewards, as long as you do things right.
Hypothetically, the path to your maximum muscular potential looks as follows.
The dot represents the point where the maximum muscular potential is reached. The time frame is in years. The horizontal dotted line afterward shows that no further gains will be made, despite your training efforts, once you reach this point.
Practically, you will never know when you have quite reached your limit. And by the time you do (if you ever do), training will be a part of your life so you wouldn't quit anyway and it's not something worth worrying about.
But most people stagnate way before they get remotely close to their genetic potential.
Unless you have been training intelligently for over a decade, it's best to assume that your stagnation is because you're screwing something up.
I'm willing to bet that your journey up until now has not been linear. Some time ago, you stagnated for a while, had an "ahah!" moment, fixed the issue, then continued to progress, and then that progress has now slowed. Here's how that looks:
The cause of my first training plateau was not eating enough. I was naturally very skinny (150 lbs / 68 kg at ~6'2). When I started training, I grew for a while (to 155 lbs / 72 kg), but then started to stagnate (point 1) and plateaued pretty quickly after that (point 2) at 162 lbs / 75 kg.
It took me five years to realize this mistake — how to bulk up — then fix it (point 3).
My next plateau was caused by not training hard and frequently enough (point 4). But by the time I figured that out, I had bought every supplement under the sun, as the muscle mags told me, thinking that the next one was the cure. 🤦🏻
How many of your fellow gym members look the same as they did two years ago? And yet, what percentage of them do you think have hit their genetic limit? And yet, how many of them take the time to look at the reasons why vs. just coming back day-after-day, repeating the same things, and expecting a different outcome?
The problem is that what brought them to where they are now will not take them to where they want to be. Something has to change, but they don't know what. If this is you, this section of the guide will help you figure that out.
Here are the factors that determine the rate at which we can grow in descending order of importance. All but the first are under our control.
Genetics (and drug use)
Calorie intake
Sufficient training stimulus to force adaptation
Sufficient protein intake
Sufficient sleep
Stress
Body-fat percentage
Everything else. (Fat-carb macronutrient intake, micronutrients, meal timing & frequency, supplements.)
If you look at the list carefully, you'll see that the top two items on the list — genetics (and drug use) and calorie intake — come ahead of training. What this means is that people can go about their training in a sub-optimal manner, but if they are genetically gifted enough and eat enough, they can get away with it.
This explains a lot of the stupid advice out there in the fitness industry. These people do not need to pay as much attention to the rest of the factors. Most have decided not to.
1. GENETICS (AND DRUG USE)
Genetics play an enormous role in how well people respond to training.
We all know people at the gym who train with seemingly little effort but are huge. You probably know someone who grew like a weed when they started training and overtook you.
This is unfair, but so is life. Your genetics are genetics; you need to play the hand you are dealt with and be the best you can. Here's how genetics affect the maximum rate of muscle growth.
The three lines show someone of average, above-average, and a below-average genetic predisposition for muscle growth.
The main point I want to make here is that you shouldn't look at someone who is bigger than you and assume that they have some special knowledge, and it's prudent to not look at a smaller guy and assume they don't know what they are doing.
Some of the most technically knowledgable people in the industry have good, but not outstanding physiques. This makes a lot of sense when you think about it — frustration with their own results led them to study harder.
Genetics for growth appear to be somewhat (not for all individuals, but when comparing populations) related to the starting point. We can see this when comparing growth rates for men and women. When they do the same program, absolute growth for men is higher, but they gain the same % of lean mass in relation to their starting lean mass. So, if you take two untrained individuals of the same height, with similar sporting histories, but different starting levels of lean mass, we can expect the bigger guy to grow bigger and more muscled overall. — Pretty much what common sense would tell us anyway.
Should we worry about our genetics then?
I'd argue not.
Whether you are genetically blessed, average, or screwed, the way you should approach things does not change.
It's statistically unlikely that you're in the genetically unlucky category and it doesn't serve you well to believe that you are one of the unlucky ones either.
The mind has an incredibly powerful effect on the body. So much so that you can actually give people sugar pills, tell them that they are steroids, and they will grow for a time like they are on steroids. (Yes, I shit you not that has actually been studied.)
So while you probably know by now whether you're one of the genetically lucky ones, it does not benefit you to buy into some sob story that you are one of the genetically unlucky ones either. The chances are that this isn't the case anyway.
How Drugs Affect Growth Rate and Muscular Potential
Steroid use increases the rate at which you can grow, and allows for growth beyond natural limits.
There is a dose-response relationship, which means the more you use, the more pronounced this effect. For comparison, 5'10 bodybuilders competing in natural federations typically have a stage weight of 170–180 lbs (~78-82 kg). Seven-time Mr. Olympia winner, Phil Heath, is 5'9 (~175cm) and weighed an estimated 250 lbs (~114 kg) on stage.
So, at the extremes, drug use can make a lot of difference. This is represented by a dramatic shift upwards and inwards of the curve, orange to purple.
Steroid use comes with considerable health risks, as well as potential jail time, depending on local laws. I do not recommend them, and I do not work with people who use them.
This is not a moral judgment, I just have neither the knowledge nor desire to go into this area. This guide is written for natural trainees who are looking to figure out what they need to do.
2. CALORIE INTAKE
Failure to eat enough is top of the list for places where people go wrong when bulking. We cannot make something out of nothing.
Muscle growth is not optimized in a calorie deficit; however, at higher levels of body fat, our body can be in a calorie deficit and still build muscle. That is because your body will use fat stores to fuel itself.
However, as we get leaner and more advanced, this becomes increasingly difficult to achieve, and eventually, we will stop gaining any more muscle mass regardless of what we do.
If you are struggling to gain weight (your weight is not steadily increasing over the weeks), you need to eat more. It does not matter what your calculations said should happen: you may have miscalculated, you may be miscounting your food intake, or you might be a high NEAT responder. (I'll come back to this later.)
• Related article: Coaching Lessons #4 – Tracking Trumps Calculations
3. APPROPRIATE TRAINING STIMULUS TO FORCE ADAPTATION
It should go without saying that if you do not have sufficient training stimulus to force adaptations, then you will not grow muscle. The majority of the calorie surplus will be stored as fat. See my article, The Core Principles of Effective Training, for more on this.
When there is an insufficient training stimulus, the weight you gain is almost exclusively fat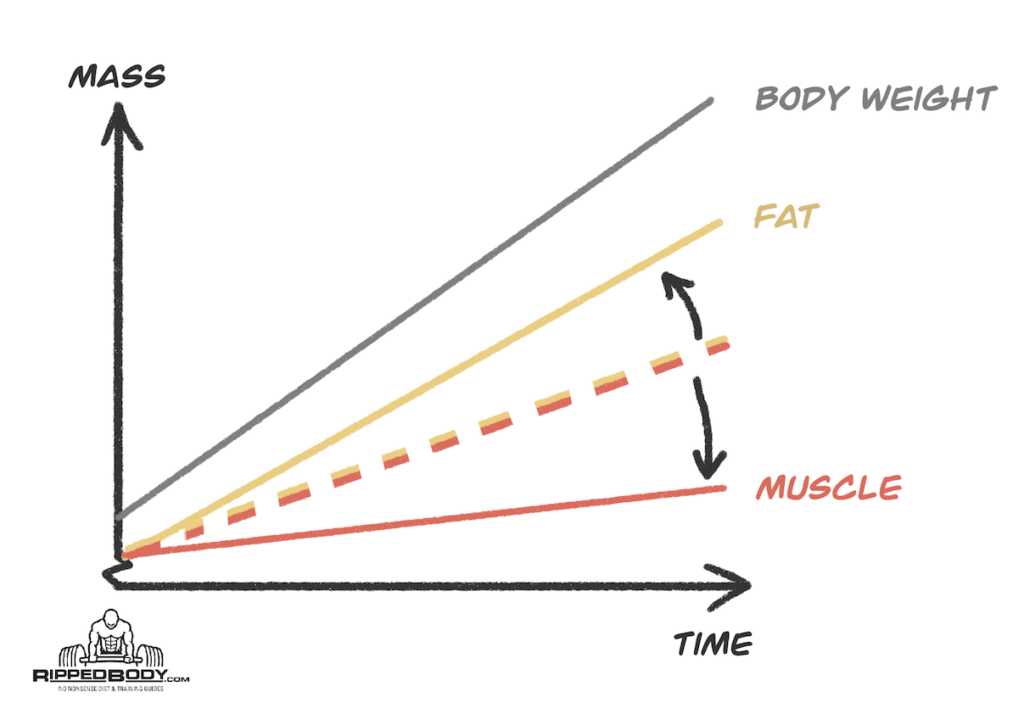 4. SUFFICIENT PROTEIN INTAKE
You need to have a sufficient level of protein intake for tissue repair and growth. Insufficient protein intake will shift the curve in a similar way to insufficient calorie intake, but to a less severe degree.
How big the impact of is will depend on how far off of optimal intake is. I've tried to capture this here:
5/6. SUFFICIENT SLEEP AND MANAGEMENT OF STRESS
Insufficient sleep and a high level of stress will hamper recovery from your workouts and your growth. This becomes increasingly important as we progress. Before I take a coaching applicant on as a client, I check to see that these elements are on point first.
Please take your sleep and stress management seriously, as it will flatten the curve and shift it down and towards the right, similar to what you see above.
👉🏻 Related: Stress: In The Gym, Out of The Gym, and How it Affects Your Program and Progress
7. BODY-FAT PERCENTAGE
There are calorie partitioning benefits to being leaner.
This means that in general, the fatter we get, any calorie surplus has a tendency towards more fat storage than muscle growth. This happens because chronic, low-grade inflammation associated with obesity decreases the anabolic, and increases catabolic, signaling in the muscles.
You can still gain muscle (sumo wrestlers carry the highest muscle mass of any sport), it's just that an increasing amount of the weight you gain will be fat.
So, is there a limit to the amount of body fat we should allow ourselves to gain when bulking? I'd argue so, yes. Cutting also. But these are not hard cut-off points, only guidelines.
[Note: Women carry ~8% more essential fat and should add 8% to all guidelines.]
👉🏻 I recommend that you don't bulk past 20% body fat.
It is unclear whether someone who bulks from 12% body fat will have a calorie partitioning advantage over someone who starts bulking at 18%, but there are clear aesthetic advantages. Also, importantly, as we move past 20%, there are increased health risks.
For that reason, I recommend that people cap their bulk cycles at 20% body fat. This means that I recommend people only start to bulk once they are below 15% body fat because otherwise, they won't have enough uninterrupted time to bulk before they need to cut again.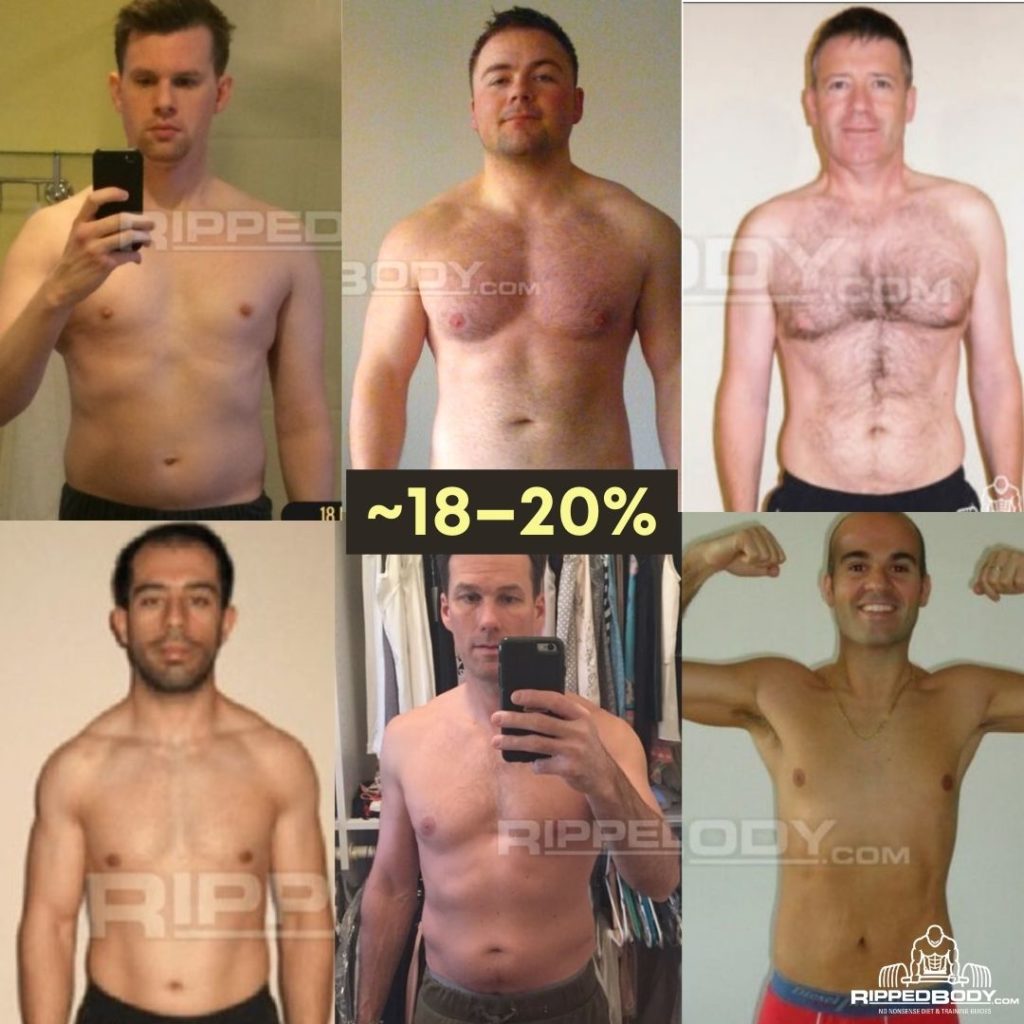 👉🏻I recommend that you don't cut beyond 10% body fat if your intention is to bulk right after.
The natural reaction to knowing that body fat will be gained in a bulking phase is that people tend to want to get as lean as possible prior to starting. But to attempt to keep your abs year-round is a common mistake.
If you wish to diet town to below 10% body fat and hang out there for a while, perhaps because you want to look your best for the summer season, that's cool.
But if your intention with cutting is to only prepare yourself for the bulk, don't go far past 10% body fat, as hormonal function (and therefore anabolic signaling) tends to be a little off, so your training efforts are likely to be in vain.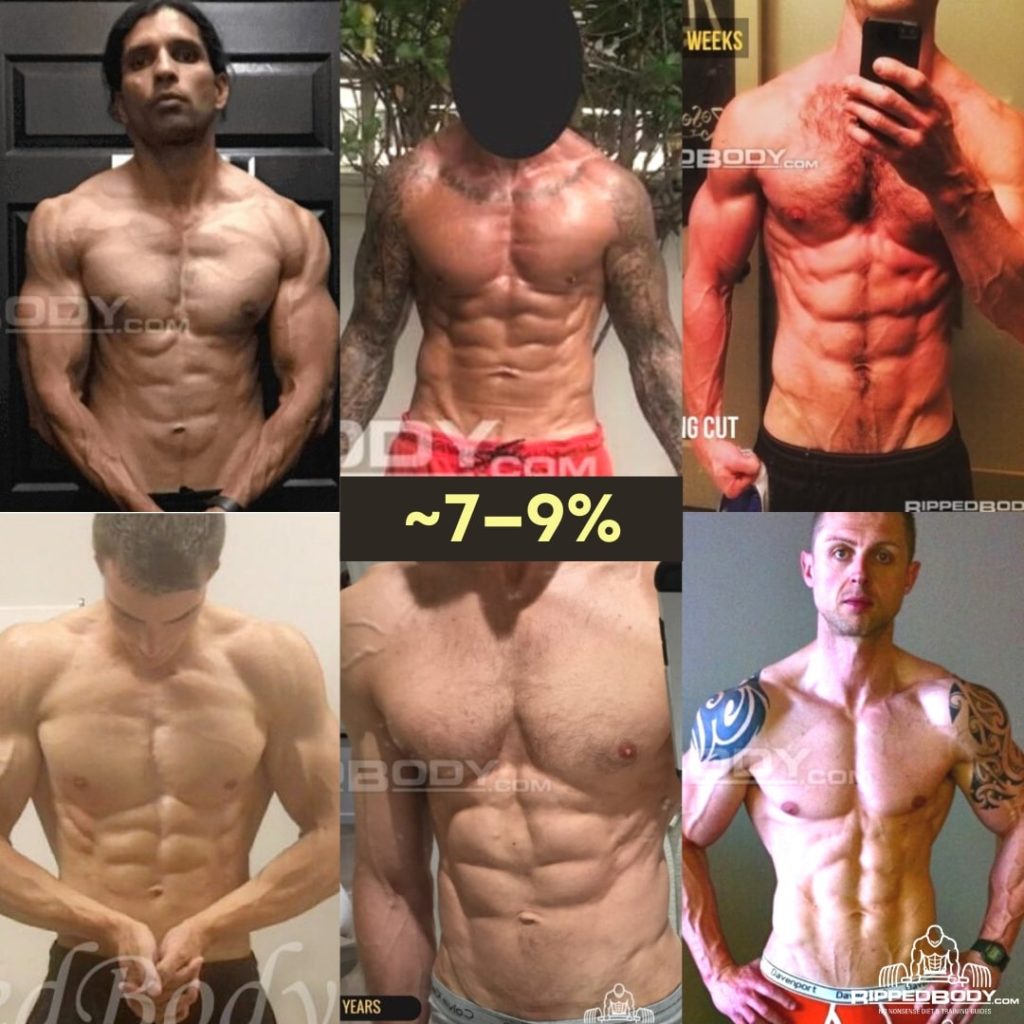 Therefore, I recommend you keep their cut–bulk cycles between ~10 and 20% body fat.
👉🏻 Here's my full gallery of body-fat percentage pictures.
8. EVERYTHING ELSE
This includes the ratio of your fat-carb macronutrient intake for the remainder of your calorie budget after protein, micronutrients, nutrient timing, and supplements.)
The importance of each of these increases as we advance with our training and get closer to our genetic potential. See my free nutrition setup guide for more.
---
PART 2: HOW QUICKLY WE CAN EXPECT TO GAIN MUSCLE WHEN BULKING UP
So we know that our level of training advancement determines our rate of muscle growth potential, which decreases with experience. (Contrast this to when we have a fat-loss goal, where body-fat percentage determines how quickly we can lose fat and has nothing to do with training experience.)
By categorizing our training advancement, we can get a reasonable estimate of the amount of muscle we can hope/expect to gain per month. This is useful to know when setting calorie intake and body weight gain targets so that we avoid gaining too quickly (and thus putting on an unnecessary amount of fat), or gaining more slowly than we otherwise could have.
CLASSIFYING TRAINING EXPERIENCE
Classifying training advancement is difficult, but I like to split it into the following four categories and define them as follows:
Beginner: New to serious training, first few months.
Novice: Still able to progress most training loads on a week to week basis.
Intermediate: Able to progress most training loads on a month to month basis.
Advanced: Progress is evident only when viewed over multiple months or a year.
RATES OF MUSCLE GAIN POTENTIAL
Here is a rough breakdown of the rate of muscle growth the average person can expect if they do everything right:
Beginner: 1–1.5% of body weight per month.
Novice: 0.75–1.25% of body weight per month.
Intermediate: 0.5–0.75% of body weight per month.
Advanced: Less than 0.5% of body weight per month.
We will use these numbers to help us set our monthly bodyweight gain targets, depending on which of the three ways we choose to bulk. (But as you will see, I only really recommend just the one.)
---
PART 3: THE THREE WAYS TO BULK UP
Straight talk — I have never seen anyone gain a significant amount of muscle without also gaining fat.
The only exceptions to this are skinny, new trainees and those who have had a long lay-off from training where they lost a significant amount of muscle.
I say this because I want to be clear — you will gain some fat when you bulk. The only question is how much fat you will gain, which is determined by how fast you set your rate of weight gain.
I view there as being three two legitimate ways to successfully bulk, each with their pros and cons:
The relaxed bulk aims to maximize the rate of muscle growth without requiring the counting of calories or macros. More fat is gained using this method, and it's considered the acceptable trade-off for simplicity.
The lean bulk aims to maximize levels of leanness, while still adding muscle mass. The changes are the hardest to measure, and I don't recommend it.
The controlled/slow bulk aims to maximize the rate of muscle growth while accepting some fat gain. This is the easiest to make clear progress while minimizing fat gain. This is what I recommend.
For all options, the underlying assumption is that whether for appearance or athletic reasons, our goal is to build a more muscled version of ourselves. Whichever method is chosen, you'll diet off any fat gained later.
---
THE RELAXED BULK
The Relaxed Bulk aims to maximize the rate of muscle growth without requiring the counting of calories or macros. More fat is gained using this method, and it's considered the acceptable trade-off for simplicity.
The rate of muscle growth can still be maximized, even if you don't focus on counting macros, as long as you're conscious of getting in enough protein and you eat enough.
You'll aim to gain weight significantly faster than your potential to gain muscle (and the other two methods of bulking). Fat gain will be higher as a result, but you choose not to care due to the ease of it.
A relaxed bulk should not be confused with a dream bulk — where people simply eat their faces off, gaining an enormous amount of weight and kidding themselves that it is mostly muscle. In contrast, when we use this relaxed bulk method we remain conscious of our maximal rates of muscle growth potential.
HOW TO IMPLEMENT A RELAXED BULK
I recommend the following rates of weight gain when executing a relaxed bulk:
Beginner & Novice Relaxed Bulk: ~3% of body weight per month.
Intermediate Relaxed Bulk: ~2% of body weight per month.
Advanced Relaxed Bulk: ~1% of body weight per month.
Your calorie intake will be 2.0–2.5x your maximum muscular gain potential, which is sufficiently high enough that a lack of attention paid to the macros won't compromise it, as you're unlikely to fall short on any of them.
👉🏻 A 160 lb lean, novice trainee will aim to gain ~5 lbs per month (160 lbs * 3%)
👉🏻 A 180 lb intermediate trainee will aim to gain ~3.5 lbs per month (180 lbs * 2%)
If you gain more than your target rate of weight gain, reduce your food intake. If you gain less than the target, increase your food intake. If you find yourself struggling to auto-regulate like this without counting, then consider starting to count as per the controlled bulk method.
---
THE (THEORETICAL) LEAN BULK
The lean bulk aims to maximize levels of leanness, while still adding muscle mass.
Theoretically, this can be achieved by making increases to calorie and macro intake only enough to allow progressions with our training (indicating muscle gain). In practice, I haven't seen anyone achieve this without losing their minds because of the slow rate of progression, which makes it exceptionally hard to manage.
We know that we cannot maximize muscle growth rate with this method, but I can't say for sure what percentage of the maximal growth rate we can achieve on average. I suspect half or less, which means you will aim to gain weight at less than 1/3 the rate of the other methods.
For this reason, it requires a lot more patience as the changes are far more subtle, and in the short term, you may not be able to measure them. This requires faith in the principle that if you are progressing with your training, then you are gaining muscle, but most people cannot do this without losing their minds.
This style is only really suitable for experienced trainees, that place a premium on maximal leanness, and are very confident that they know what they are doing with their training and diet. This is something that the professional figure model needs to do to stay employed.
From my point of view as a coach, this does not lend itself well to coaching because the changes are often too subtle to keep people motivated and feel value for their money. The reasons for this will become evident when we get to the comparison graphs section below.
HOW TO IMPLEMENT A LEAN BULK
You need to start from a low body fat to use this method. This is because you will be using a combination of the photos, stomach measurements, and body-fat calipers (a case where I recommend these) to gauge whether you have gained fat or muscle.
If you have been dieting (which you probably will have) then:
Add calories to bring yourself to maintenance calorie intake.
Make small increases of 100–150 kcal (scaling with body size) to daily calorie intake when your training fails to progress.
If you haven't been dieting and your body weight is stable, then just skip the first part of this.
If you are currently gaining weight at more than the expected rate of muscle growth, then consider cutting back calorie intake slightly.
LEAN BULK EXAMPLE ADJUSTMENTS
Imagine you're an advanced trainee, 180 lbs, 10% body fat, have just finished dieting, and you were losing 0.75 lbs per week. Here's how you'd go about transitioning into the lean bulk.
1. It takes a 500 kcal daily deficit to lose 1 lb per week. So, add back in 375 kcal. (0.75 *500)
2. Make this increase via your preferred mix of carbs and fats. So, 10 g of fat and 70 g of carbs, for example.
3. Wait and track things over a couple of weeks. If you feel more energetic in the gym and training starts improving, but you see that your weight is still dropping slightly, make another increase. This time you increase by ~200 kcal, 5 g of fat, and 40 g of carbs.
4. Over the next couple of weeks, strength starts improving. But your weight has come up by three pounds! Is it fat? The photos and body-fat caliper measurements show no difference, but the stomach measurements have increased. This tells you that there is no fat gain, just an increase in glycogen, gut content, and water. Don't change your macros.
5. Four weeks later, your training progression has stalled. Body-fat appears unchanged. Make another increase, this time ~150 kcal, adding 5 g of fat, 25 g of carbs.
Keep on making fine-tune adjustments to your macros like this to keep progressing with your training without any fat gain.
This is theoretical. I haven't seen someone succeed in practice. And before you think you're the exception and go ahead anyway, part four will show why this method will lead to slower physique progress over the years than the controlled bulk, even if you manage to implement it successfully.
Trust me, I wish we could all stay lean year-round, but it just isn't realistic to do so and make meaningful progress.
---
THE CONTROLLED/SLOW BULK
The controlled bulk aims to maximize the rate of muscle growth while accepting some fat gain.
Of the three methods we're covering in this article, this is the one I use with coaching clients because it leads to the clearest signs of progress without leaving them with a lot of fat to cut off after the bulk. (It's the controlled bulk method for which I have set the macro calculator.)
TARGET RATES OF WEIGHT GAIN FOR THE CONTROLLED BULK
I recommend the following rates of weight gain when executing a controlled bulk:
Beginner Controlled Bulk: 2% of body weight per month.
Novice Controlled Bulk: 1.5% of body weight per month.
Intermediate Controlled Bulk: 1% of body weight per month.
Advanced Controlled Bulk: 0.5% of body weight per month.
We know that some fat will be gained when we bulk; therefore, we know that to achieve our maximal rate of muscle growth, we have to gain weight at a higher rate than that. But how much higher should we set our rates of body weight gain? Research can't tell us this, but experience coaching people leaves clues on what is appropriate.
Over the years, the average client has gained muscle and fat in a 1:1 ratio. Sometimes the results are a little better, and sometimes they are a little worse. I'm fairly sure the differences between clients are down to genetic luck rather than effort, as I tend to work with people who truly give it their all.
HOW TO IMPLEMENT A CONTROLLED BULK
Step 1: Calculate the initial calorie adjustment.
Step 2: Adjust your macros and track progress over five weeks.
Step 3: Adjust calorie and macro intake, if necessary.
Step 4: Track progress. Adjust calorie intake again when necessary.
👉🏻 It takes roughly ~2500 kcal to build 1 lb of muscle and ~3500 kcal to burn or store 1 lb of fat.
As people typically gain fat and muscle in a 1:1 ratio in a bulk phase, and if we assume a 30 day month, this means we need a 100 kcal daily caloric surplus to gain 1 lb of weight per month (~220 kcal for 1 kg).
However, just as the body has mechanisms to frustrate our dieting efforts (metabolic downregulation) in an attempt to ward off starvation, there are mechanisms that kick in to combat a calorie surplus. These aren't as powerful as when we are dieting (historically, we were far less likely to eat ourselves to death than starve to death), but they vary from individual to individual.
A big one is called NEAT (non-exercise activity thermogenesis). It is the energy expended for everything we do that is not sleeping, eating, or sports-like exercise.
Just as some people experience more lethargy than others when dieting, dropping their NEAT, some people get more active than others when bulking (they start fidgeting more throughout the day, for example). This is impossible to predict, but I suggest we add 50%, which gives the following heuristic:
👉🏻 To gain 1 lb of weight per month, add 150 kcal each day (330 kcal for 1 kg).
NEAT, along with hunger-fullness signaling differences, explains why some people have a hard time gaining weight. You'll see them referred to as 'hardgainers.' There's nothing wrong; they just have to eat more or ignore hunger signals more.
Additionally, those who have been dieting prior will find that they can eat more than just the calculated energy difference of their weekly fat-loss rate as their hormones come back into balance, and metabolisms speed back up to normal.
This means that there isn't a single calculation we can do to set our calorie intake perfectly for the duration of a bulk. We need to track how the scale weight changes over time and adjust continually, hence why this is a multi-step process.
Controlled BULK EXAMPLE ADJUSTMENTS
Step 1: The initial calorie And Macro adjustment
If you haven't been tracking your weight or calorie intake up until now, just use the macro calculator and then track your progress like this for 5 weeks.
If you have, we have the opportunity to be a little more accurate as we can base the adjustments off of your data. I'll use two examples to explain how to do this.
1) A 160 lb lean, novice trainee, currently not gaining or losing any weight.
As he is not currently gaining or losing weight, he is at approximately maintenance calories. We will target a weight gain of 1.5% per month, which is 2.4 lbs.
Therefore, he needs to increase daily caloric intake by 360 kcal per day (2.4 lbs * 150 kcal).
2) A 180 lb intermediate trainee, finished his cut to shreds, recently losing 1.0 lbs per week.
He is currently in an approximate 500 kcal daily deficit and will target a weight gain of 1% per month, which is 1.8 lbs.
Therefore, he needs to increase daily caloric intake by 770 kcal per day (500 + 1.8 * 150).
STEP 2: ADJUST YOUR MACROS and TRACK PROGRESS OVER FIVE WEEKS
So this brings us on the macronutrients — how much of each should we increase to reach these new calorie requirements?
👉🏻 I recommend you leave protein as it is and increase your carb and fat intake in a 3:1 ratio.
A 1 lb increase of muscle per month would bump up our protein requirements by ~1g. That is a minor amount, and I don't think it's worth adjusting for.
For carbs and fats, if I look back through the data with clients, what seems to have worked best on average is something like an approximate 75–25 split in favor of carbs. When I wrote The Muscle and Strength Pyramid: Nutrition book with Eric Helms, this jived with his experience also, and we recommend fat intakes in the 20–30% of total calorie intake range when at maintenance or bulking, 15-25% when cutting.
Recall from the Nutrition Setup Guide and How To Make Meals Out Of Your Macros guide that 1 g of protein and carbohydrate = ~4 kcal, 1 g of fat = ~9 kcal.
1) Our novice trainee needs a 360 kcal increase per day.
He doesn't have a strong preference for carbs vs. fats, so he splits things 75% carbs, 25% fats.
This gives him a daily increase of 10 g fat, ~65 g carbs. (10 * 9 kcal + 67.5 * 4 kcal = 360 kcal)
2) Our intermediate trainee needs a 770 kcal increase per day.
As he's been dieting, fat intake likely had to be cut down to the lower end of the recommended range to keep carb intake high enough to support the training. Now we can push this back up. Therefore, we'll skew the first calorie increase a little more toward fat.
This gives him a daily increase of 25 g fat, 135 g carbs. (25 * 9 kcal + 136.25 * 4 kcal = 770 kcal)
STEP 3: ADJUST CALORIE INTAKE, IF NECESSARY
Take a look at your average rate of weight change over the last five weeks. Ignore the change that happened in the first week and calculate the average rate of weight change per week over the last four weeks.
👉🏻 Add or subtract 150 kcal per pound (330 kcal/ kg) you are off your monthly target to your calorie intake each day.
Let's consider what this might look like for our two trainees.
1) Here's the scale weight data for our 160 lb novice trainee, aiming to gain 2.4 lbs per month, since the calorie and macro change:
160 » 162 lbs
162.4 lbs
162.9 lbs
163.2 lbs
163.4 lbs
We ignore the first week's bump, which will have muscle glycogen, gut content, and water in the mix.
The change from the end of week 1 to the end of week 5 has been 1.4 lbs. This is 1 lb short of the monthly target, so he needs to add 150 kcal to his daily calorie intake. He does that by adding 25 g of carbs, 5 g of fat.
2) Here's the scale weight data for our 180 lb intermediate trainee, aiming to gain 1.8 lbs per month, since the calorie and macro change:
180 » 186.1 lbs
186.3 lbs
186.5 lbs
186.8 lbs
186.9 lbs
You can see there is a bigger bump in weight in the first week for our intermediate trainee because this calorie increase was bigger. We'll ignore this for the same reasons also.
The change from the end of week 1 to the end of week 5 has been 0.8 lbs. This is also 1 lb short of the monthly target, so he needs to add 150 kcal to his daily calorie intake. He does that by adding ~25 g of carbs, 5 g of fats.
STEP 4: ADJUST CALORIE INTAKE AGAIN WHEN NECESSARY
Repeat step 3 every five weeks and adjust if necessary. I don't recommend that you adjust more frequently than this — the changes when bulking are small, the scale weight can fluctuate, it requires a longer time period then dieting to tease out true changes from noise.
Here's how this might all look:
Our 160 lb lean, novice trainee's first serious bulk
| | | | |
| --- | --- | --- | --- |
| Schedule | Initial macros (pcf) | 1st adjustment | 2nd adjustment |
| Training day | 160/455/70 | 160/520/80 | 160/555/85 |
| Rest day | 160/260/90 | 160/325/100 | 160/350/105 |
Our 180 lb intermediate trainee, bulking after dieting to shreds
| | | | |
| --- | --- | --- | --- |
| Schedule | End of diet macros | 1st adjustment | 2nd adjustment |
| Training day | 180/250/40 | 180/385/65 | 180/410/70 |
| Rest day | 180/100/60 | 180/235/85 | 180/260/90 |
The intermediate trainee will likely have to make a few further adjustments as their metabolic rate comes back up to normal levels after the diet.
---
PART 4: HOW TO BULK UP — COMPARING FAT AND MUSCLE GAIN WITH DIFFERENT METHODS
If I didn't send you to sleep halfway through reading this, you'll know that the method I recommend is the controlled bulk. Here are some comparisons of different scenarios justifying that position. I am assuming the same starting level of leanness for all.
Ultimately, you need to choose a method based on your effort-reward preference. It needs to be a method that you can be consistent with, and this will come down to the tug of your social life vs. satisfaction derived from staying lean or seeing progress.
1. BULKING PHASE COMPARISONS
Imagine three identical triplets decide to do each of the three methods. They are all starting from the same 'shredded' level of leanness. Here is how a 6-month bulk phase would look:
By the 6-month mark, the relaxed and controlled bulk methods have resulted in the same amount of total muscle gain and are clearly ahead of the lean bulk method.
However, looking at this 6-month snapshot is a false comparison; we are going to want to lose the fat that is gained after we have bulked. So, let's extend the time frame to include the cut phase and see what happens to our three identical triplets.
👉🏻 Muscle Mass Increases: Slow bulk = Relaxed bulk > Lean gains.
2. Cut Comparison When There Is A Sudden Deadline To Get Shredded
In this first example, I'll assume that there is a sudden deadline (competition or photoshoot) set for our guys two months out. They have to get back down to baseline leanness — that shredded state they had before — or they lose their jobs, sponsorship, etc. Here's how that would look:
The controlled bulk guy has time to get back down to base-level leanness, with minimal lean mass losses.
The relaxed bulk guy has to rush his cut; he loses more and more lean mass as the weeks progress. This happens because he has to force his body to lose fat at a rate higher than it can do so without muscle losses.
The lean bulk guy does not need to cut; he continues to gain mass very steadily.
👉🏻 Net Muscle Mass Increases: Slow bulk > Lean gains > Relaxed bulk.
3. Cut Comparison when a Deadline Is Known In Advance
Alright, so you're going to call me out on the previous example and say that this doesn't apply to most people, that people will not rush their cut and lose muscle mass. I'd argue that the majority of people make this mistake (setting false deadlines for themselves and wasting their hard-earned gains), but we, being educated about these things, are not them. Fair enough.
So, let's say you have a deadline a long way in advance — a long beach holiday, for example — and you want to look your best by that point. Here's how that would look:
The situation is the same as the previous example for the controlled bulk and lean bulk guy. The former can cut at the same time; the latter can continue until his holiday.
The relaxed bulk guy has to start his cut much earlier. His bulk phase is shorter than the slow-bulk guy so the muscle gain is lower, but he achieves a greater overall gain than the lean gains guy.
👉🏻 Net Muscle Mass Increases: Slow bulk > Relaxed bulk > Lean bulk.
4. WHAT HAPPENS WHEN PEOPLE CUT FOR SUMMER
Ok, so let's say that there is no deadline to get shredded, and both the controlled bulk and relaxed bulk methods start their cut at the same time.
Now, before you hammer me for being nonsensical, I'd point out that this is what most people do: bulk for the majority of the year and then cut for the summer period, starting the same time each year (usually May), irrespective of how much body fat they are carrying. This is because they don't want to compromise their 'off-season' bulk time frame, and is usually accompanied by complaints that they never seem to be able to get shredded in time for summer.
Here's how that looks assuming they don't rush the cut to the point muscle mass is lost any more than normal:
The lean bulk guy does not need to cut; he can continue to grow throughout summer gradually.
It takes the relaxed bulk guy until the end of summer to get to maximal leanness, but he feels far too fat at the start, and this affects his enjoyment at the beach, possibly choosing not to go for the first month of summer.
The slow bulk guy gets to maximal leanness by early-mid summer and can seek to maintain that condition, or move on into a slow-bulk phase. If the slow bulk phase is started immediately upon hitting maximal leanness (as depicted in the graph above), there will be a small amount of fat regain, but arguably low enough to remain in good beach condition before the end of the summer. This is worth considering if you wish to maximize your gains in the coming year as it will give you a longer bulking period.
👉🏻 Net Muscle Mass Increases: Slow bulk > Relaxed bulk > Lean bulk.
5. WHAT HAPPENS WHEN Setting AN UPPER LIMIT TO BODY-FAT PERCENTAGE
Imagine that you wish to bulk but don't want to go past a certain level of body fat so that you can stay in year-round good condition. This way, you will feel comfortable taking your shirt off at any time.
Let's call this 15% body fat — a level where with enough muscle mass, you will still look good. (15% body fat when you are weak and carry very little muscle doesn't.) You will bulk until you hit 15% and then start your cut. Thus, to the outsider, you will always look somewhere between good condition and great condition.
It is difficult to assess body-fat percentage accurately using the methods we have available, so I would recommend using a combination of my visual guide to body-fat percentage, and the US Navy Method of Body-fat Estimation.
Here's how the three different methods of bulking compare over a longer period:
For the lean bulk, with no cutting period, gains can be made throughout.
The slow bulk method allows us to have longer bulking periods and more time spent growing overall, which leads to greater muscle mass increases.
With the relaxed bulk method, bulking periods have to be shorter because the cut phase has to start sooner. Thus the overall time spent gaining muscle is shorter, and less muscle mass gained.
Over longer time periods (in the above we have ~17 months), the slow bulk guy makes more progress towards their maximum muscular potential than the other two methods.
Note how the lean bulk approach is not far behind the relaxed bulk in terms of growth over longer time frames in this situation. However, I just want to emphasize – due to the patience that it requires and the subtlety of the changes people often lose their minds before being successful with the lean bulk method of bulking.
Thus, with the exclusion of special populations, when it comes to client work, I find myself recommending and guiding people through controlled bulks.
👉🏻 Long-Term Net Muscle Mass Increases: Slow bulk > Relaxed bulk > Lean gains.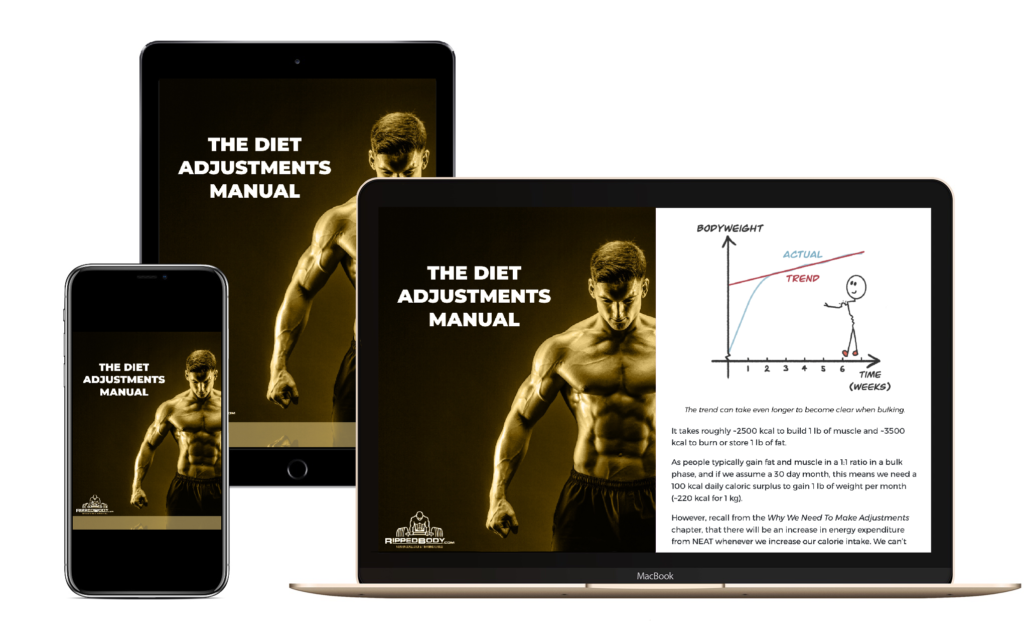 Thank you for reading. To learn more about adjustments for bulking, maintenance, cutting, and the transition phases between them, check out my book, The Diet Adjustments Manual.
Questions welcomed in the comments. 🙏🏻❤️
– Andy
---
How To Bulk Q&A
What should I eat to bulk?
The foods you should eat to bulk are the same as those when you cut; you'll simply have more of them and room for 'treats.'

Your diet should be rich in fruits, vegetables, and have sufficient protein (1 g/lb of body weight per day). The rest should be made up of predominantly fresh and unprocessed foods. These things will help keep you full when dieting, help ensure muscle mass retention, and cover your micronutritional needs.

This advice does not change when you bulk. However, because you have a higher calorie budget, you can fit in calorie-dense treats that you might crave from time to time. These should not come at the cost of nutrient-dense foods (fruits and vegetables).

Most clients eat the same kind of diet year-round; they just increase or decrease their carb intake and frequency that they eat out. I like to have a bowl of cereal with a chocolate protein shake made with skimmed milk to meet my carb requirements. Here's my guide to making meals out of your macros.
How can I bulk up fast?
Most answers to the question of how to bulk up fast focus on foods people should eat. But the simple fact of the matter is that there is no way to bulk up faster than your genetic potential. If you do, you're just getting fat.

Recall from the start of this guide that how fast you can grow depends on your genetics, calorie intake, training quality, sufficient protein intake, sleep quality, and stress levels. Make sure you take each of these seriously. Refer to the How Quickly Can We Gain Muscle As We Bulk? section, so that you know what rate of weight gain to target. This will stop you from progressing more slowly than you otherwise could, but more commonly, getting fat.
Are bananas good for bulking?
The average 125 g banana has 27 g of carbs with just 3 g of fiber. This means they're relatively high in carbs and low in fiber, so you're unlikely to poop yourself if you eat a lot of bananas to hit your carb requirements (unlike with other fruits).

However, roughly half of the carbs will be fructose content. Fructose is processed differently to the glucose you get from the carbs in rice, potatoes, bread, and pasta. So while it would be fine to eat several bananas per day, it's probably not optimal to rely on them exclusively to meet your carbohydrate needs.
Is rice good for bulking up?
Yes, rice is good for bulking up but no better than pasta, bread, potatoes, or other starchy sources to meet your carb requirements. Feel free to choose what you enjoy and make sure you don't skimp on protein intake, of the other 9 critical factors for bulking up that I cover in this guide.
Where can I find out about macros, meal timing, and supplements?
These are covered in my Nutrition Setup Guide.