You may have come to this article looking for guidance on the exact way to reduce carbs, fats, and protein when your diet stalls.
But as someone whose job for the last decade has been coaching people online to get them shredded lean, I must tell you that making a reduction is the last thing I look to do, and I think that is the key reason why my clients are successful.
To explain, I need to first show you the bigger picture of what goes on when we diet. This guide has four sections:
There is no denying that the level of conditioning you can get to and sustain has a genetic component about it, but this guide will give you the best shot at getting as lean as is possible for you. (See here for the companion guide covering how to bulk.)
📙 What follows is a sample chapter from my book, The Diet Adjustments Manual.
---
Why Adjustments Are Needed as We Diet
We need to make adjustments to our calorie intake as we diet if we're to be successful with our fat loss goals. This is because our initial calorie and macro calculations are estimations, and our energy needs change over time due to various compensatory mechanisms.
Weight fluctuations often mask fat loss, so it can be hard to know when to adjust. This is something most people are completely ignorant of, slashing calories when weight loss stalls and failing their diets because they can't sustain it.
We want to remain eating as much as possible for as long as possible, and we want to make those cuts from the macros in the least compromising way.
To know when (and when not) to make adjustments, it's essential to understand first why you need to make adjustments, why fluctuations in weight and appearance happen, and how to track your progress so that you have the right data to interpret.
The key from there is to give yourself a rule framework so that you don't get impatient and do stupid shit.
Why Your Initial Calorie and Macro Calculations Are Only Estimations
"But the calorie and macro calculator says I should be losing weight!!"
Incorrect. The calorie and macro calculator, as with any calculator, is merely a tool to help you estimate what your intake should be for your goals. Additionally, our energy needs change over time due to various compensatory mechanisms.
There are three key parts of your calorie intake calculation. Your basal metabolic rate (BMR), an activity multiplier, and the adjustment to create the calorie deficit needed to lose weight at the rate you are targeting. The equation looks like this:
Target Daily Calorie Intake = BMR * Activity Multiplier – Calorie Deficit Needed
The BMR component of this is an estimate based on group averages. There are simple formulas and very sophisticated formulas, but they all give estimations based on group averages.
The activity multiplier is an estimate based on how active you are. There is a subjective component to this. No amount of explanations can help get around that; trying to rely on activity trackers to estimate, given their inaccuracies, is not the answer.
We have little choice but to use an initial calculation knowing that it may need to be adjusted, track our progress, and then adjust based on the outcome. This is what I do with all clients and you cannot deny that it works well.
Metabolic Adaptation — Why Our Energy Needs Decrease As We Diet
Calorie balance is what determines whether we lose or gain weight. The 'problem' is that energy intake affects energy expenditure. This is called metabolic adaptation.
There are particularly strong protective mechanisms designed to keep us alive during times of famine, which is why it's easier to get fat than it is shredded lean.
It requires a 3500 kcal energy deficit to lose 1 lb of fat (7700 kcal for 1 kg). This '3500 calorie rule' is often criticized because it is sometimes stated without acknowledging that our energy needs change as we diet. If this weren't the case, all currently-weight-stable Thelma would need to do is cut out her morning frappushittino to end up skinny.
But we know it doesn't work that way. What starts out as a calorie deficit, is eventually eroded away.
Let's take a look at the components of Total daily energy expenditure (TDEE)
Basal metabolic rate (BMR) is our resting energy expenditure (REE) and makes up the largest component of our total daily energy needs.
As we get smaller, our BMR drops because there is less of us to maintain. However, the BMR drops further than what the tissue losses alone would predict, due to a compensatory mechanism called adaptive thermogenesis. Thyroid hormone levels decrease and mitochondrial efficiency increases, reducing energy expenditure.
Non-exercise activity thermogenesis (NEAT) is a posh name for energy used during "non-exercise" movement such as fidgeting or normal daily activities. This also decreases when we diet. It happens more for some people than others.
The thermic effect of food (TEF) is the energy used to ingest, absorb, metabolize, and store nutrients from food. As we eat less, this decreases also.
Exercise activity thermogenesis (EAT) is a posh name for the energy used during exercise. The lighter we get, the less energy we expend.
Because there are differences from person to person, it's not possible to calculate the level of metabolic adaptation we will have, we just have to track our progress and adjust things along the way.
Am I Metabolically Damaged?
In short, no. Hormonal issues requiring medication do exist, but it's unlikely that you have dieted your way into one.
This is a concept born out of desperation for people to explain their lack of progress when dieting. But it can be explained by three things:
People think a single calculation at the start of a diet can predict progress through to the desired result. But as I've just explained, this is not true.
Underestimating calorie intake and overestimating energy expenditure. This is well documented in the scientific literature.
Water retention and sudden whooshes masking fat loss. This is especially common during periods of high stress (and for women over their monthly cycle), and something people aren't aware of. (More on this in the next section.)
There are two other important responses to a sustained caloric deficit worth highlighting: increases in ghrelin and decreases in leptin. These two hormones are, broadly speaking, responsible for hunger and satiety.
So whenever someone says, "Hey, I'm eating only 1200 kcal and I'm not losing weight! What am I doing wrong?!"
The chances are that they're underestimating calorie intake, or they are losing fat but they have some water retention, or the way they are tracking progress is inadequate to conclude that progress isn't happening. (I'll come back to this later).
When you factor in that shorter people have lower energy needs in a world with large portion sizes, it's natural for this misery to be compounded and life to not seem fair. (It isn't.)
The reality is, we just have to eat less and less to keep progressing as we diet. And at the same time, hunger increases, satiety decreases, and this sucks. This is why we need to be smart about the adjustments we make and not slash calories needlessly.
---
Why Fluctuations In Weight And Appearance Happen
In my articles on how to set calorie intake and when to bulk vs cut, I presented the following sketches representing fat, muscle, and weight changes for cutting and recomp phases over several months:
But in reality, the body weight line will look more like this:
The short-term fluctuations rule out any possibility of gauging progress on a day to day basis, or even week to week. But attempting to do so is a mistake people often make.
Educating yourself on the reasons these fluctuations in weight happen will help you tease out real progress from noise.
The Reasons For Large Daily And Weekly Fluctuations In Weight
It is essential to understand that scale weight change captures more than just fat mass changes.
Weight is affected by hydration status, gut and bladder content, liver and muscle glycogen storage, and any muscle mass changes.
Fat mass changes are slow to happen; muscle mass changes happen even more slowly. So, any large weight fluctuations you experience in a short time frame (hours or days) will not be muscle or fat.
You'll have no doubt noticed that your weight fluctuates during the day. This is because of some obvious reasons, like toilet visits, water, and food intake, but also some less obvious ones, like sweat, and water loss through respiration at night. (This is why you always weigh less in the morning and your pee is yellow for that first toilet visit — you're dehydrated.)
Just as you know not to weigh yourself at different times of the day and conclude whether you gained or lost any fat, you shouldn't try to gauge progress day-to-day either.
Even when calorie balance is unchanged:
If you eat saltier foods, and you will retain more water for a few days.
If you eat more carbs than normal, they will be stored with ~3 g of water as glycogen. (And if you eat fewer carbs than normal, then you'll use this glycogen and retain less water than normal.)
If you take a couple of days off, unless you overeat by a lot, the majority of your weight gain will not be fat:
Additionally, water retention, though common when we're stressed, can also happen seemingly at random and can mask fat loss also. These fluctuations all affect your weight and how you look.
What is important then is not the short-term fluctuations, but the long-term trend lines. This is why the way we track our progress can make or break a diet.
---
How I recommend you track progress (and The MethodS I suggest you avoid)
Tracking progress is as much about knowing what to track as what not to track. Taking too many data points can almost be as bad as taking too few because you will then struggle to read the signal through the noise.
The Two Tracking Methods To Avoid
Don't try to track your progress by a body-fat percentage estimation tool. All methods have inaccuracies and inconsistencies. I've talked about this here, here, and interviewed one of the world's foremost experts about it.
Do not try to use an activity tracker to estimate your calorie burn and adjust your diet each day to the numbers it gives. These devices are also notoriously inaccurate. The activity multiplier in your TDEE calculation took care of your activity levels. Yes, they will vary a little from day to day, but this is a small part of a much bigger picture so you don't need to worry about it.
The 8 Ways I Suggest You Track Progress
Choose one morning each week where you set aside 10 minutes to do these things. I get clients to do this on a Saturday and they update me with this data every two weeks in a spreadsheet that looks like this:
1. Weigh yourself every morning. Do this upon waking, after the toilet, before drinking anything. Note the weekly average on Saturday morning.
2. Take body measurements in 9 places. At your navel and 3 finger-widths above and below, hips, chest, arms, and legs. Note each measurement to the nearest mm.
3. Take front and side photos once every four weeks. Use the same camera, angle, pose, and lighting. Don't rely on anyone else to take them for you.
4. Note the adherence to your weekly calorie targets as a percentage. If you go 15% over your calorie targets, write 115%. If you go 10% under your target, write 90%.
5. Rate your training adherence as a percentage of the number of training sessions completed each week. This should nearly always be 100%. If you keep missing sessions, you need to reorganize your schedule or reorganize your training volume to put it across fewer training days. (My guide for that here.)
6. Note subjective feelings of sleep quality, stress, hunger, and fatigue/lethargy on a scale of 0–5. If you have zero issues, write 0. For extreme issues, write 5.
7. Keep summary notes on your key lifts. Choose 3-6 lifts and write either 'Progressing, recovered' / 'Not progressing, recovered' / 'Not progressing, not recovered' each week. This will give you a snapshot of where you are at.
8. Keep a detailed training log. Log all of your working sets, but don't clutter it by adding your warm-ups.
You can download a spreadsheet to log your data the way I get clients to and see more detailed explanations about how to take each of these data points in my guide to tracking progress.
---
When and how to make diet adjustments — My decision-making framework
There are two types of adjustment when dieting. The first is correcting your initial calorie calculations (if necessary). The second concerns the ongoing assessments as to whether you need to make an adjustment to keep progressing.
How To Assess and Correct Your Initial Calorie and Macro Calculations
Wait four weeks! You've got to wait long enough for a trend line to develop, otherwise, you're just guessing. The blue line is how you can expect your body weight data to look: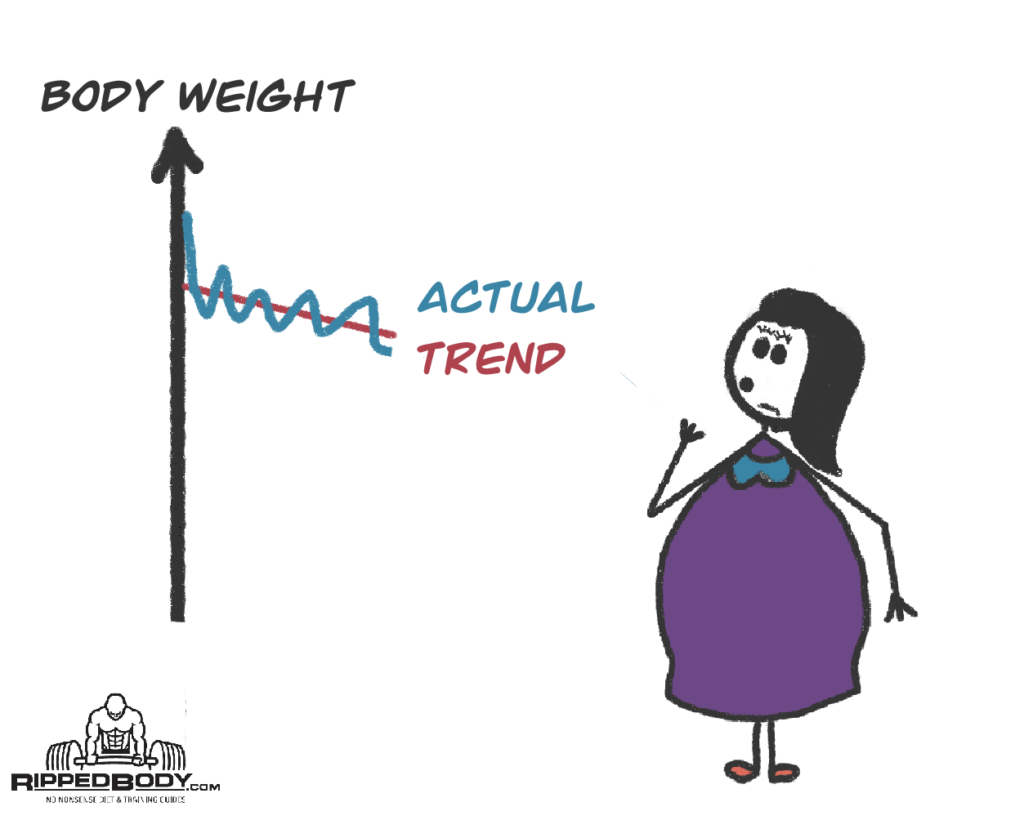 The large initial dip you see is common when people start dieting. Less food eaten means a lower average gut content. Your carb intake will be lower, which means your glycogen stores (and thus water levels) will be lower.
Your first week of data will be fairly useless then. Your second week of data onward starts to become useful, but it takes a few weeks to assess the trend.
Additionally, if you're new to calorie and macro counting, you can expect to make some mistakes in the first week or two, which you'll fix. This adds more noise to the data.
Women need to wait four weeks so they are comparing the same time of their monthly cycle.
Let's say your weight data looks like this:
| | |
| --- | --- |
| Start | 160 lbs |
| Week 1 average | 155 lbs |
| Week 2 average | 153.9 lbs |
| Week 3 average | 153.2 lbs |
| Week 4 average | 152.0 lbs |
Looking from the end of week one to the end of week four, you're averaging 1 lb per week. Sure, some weeks have a little more or less than others, but that's just how things are in the dieting game. If 1 lb was your target, then there's no adjustment to be made at this point. However, if you are losing weight slower or faster than targeted, you need to make an adjustment.
Here's the formula you use to adjust your diet:
Daily calorie adjustment = (Actual rate weight loss – target rate of weight loss) x 500
So, if your actual rate is 0.5 lbs, you need to subtract 250 kcal daily.
If 1lb was your target but your actual rate of weight loss is 1.4 lbs, you need to add 200 kcal daily.
"But from what macros should I adjust these calorie amounts from?"
I'm glad you asked…
How To Adjust Macros
We want to choose the least compromising way to reduce calories from your diet. Recall from my nutrition setup guidelines the broad function of the three macronutrients:
Protein is important for satiety and muscle mass retention.
Carb intake is important for maintaining training quality.
Fat intake is important for hormonal function and for keeping your diet from being boring as hell.
Protein is arguably the most important of the three. Unless you've set your protein intake higher than I have suggested, I'd recommend that you keep protein as is, and reduce calories from a mix of carb and fat intake.
If you're following my macro guidelines, you'll almost always have a little more room to reduce carbs than fats. Therefore, I'd recommend your calorie reductions come from somewhere between a 1:1 and 2:1 ratio of carb and fat calories, respectively.
Bearing in mind that 1 g of carbs is 4 kcal, and 1 g of fats is 9 kcal, here's a quick reference table of how to make reductions of different calorie amounts:
Calorie change
Even(ish) split
(Recommended)
More carbs
(Recommended)
Fat only
Carbs only
~100 kcal
C: 15 g, F :5 g
–
10 g
25 g
~150 kcal
C: 15 g, F: 10 g
C: 25 g, F: 5 g
15 g
40 g
~200 kcal
C: 25 g, F: 10 g
C: 40 g, F: 5 g
20 g
50 g
~250 kcal
C: 30 g, F: 15 g
C: 40 g, F: 10 g
30 g
60 g
~300 kcal
C: 40 g, F: 15 g
C: 50 g, F: 10 g
35 g
75 g
~350 kcal
C: 40 g, F: 20 g
C: 55 g, F: 15 g
40 g
90 g
Note: I always round daily macro targets to the nearest 5 g as I don't believe there is any point in attempting to be more accurate.
So, if you need to reduce your calorie intake by ~250 kcal, I recommend you achieve this by either reducing 30 g of carbs and 15 g of fats, or 40 g of carbs and 10 g of fats daily.
If you need to increase your calorie intake by ~200 kcal, I recommend you either add 25 g of carbs and 10 g of fats, or 40 g of carbs and 5 g of fats daily.
How To Assess Your Progress and Make An AdjustmenT If Needed
When I coach people I don't have a formal checklist or decision tree that I go through. (I've been doing this so long that it's all in my head.) However, this is how I tend to think about things:
Some Important Notes on the Adjustments Flowchart
You'll notice that a calorie reduction is the last thing to consider. Recall from the start of this guide that we want to remain eating as much as possible for as long as possible because it'll give us the highest chance of succeeding.
You'll notice that "adding cardio" is not given as an option. It's not something I even think about because it's so exceptionally rare that I recommend it to a client. Dietary control should be the primary driver of calorie balance, cardio should be used sparingly, if at all.
Sharp readers will also see that we're using bodyweight as the primary guide and not panicking if the body measurements don't change much for a certain period. This is because the measurements don't always pick up the changes.
One key assumption here is that you're losing weight at a sensible rate and so maintaining sufficient training stimulus to not lose muscle mass won't be an issue. I've addressed the topic of training when cutting in another article.
Here are links to my guides relating to the points I made on managing your food environment, motivation, stress issues, sleep issues, and how to implement a diet break.
If you've determined that you need to make a macro reduction, just repeat the same calculation we used before.
Simple.
Now go crush it. 💪🏻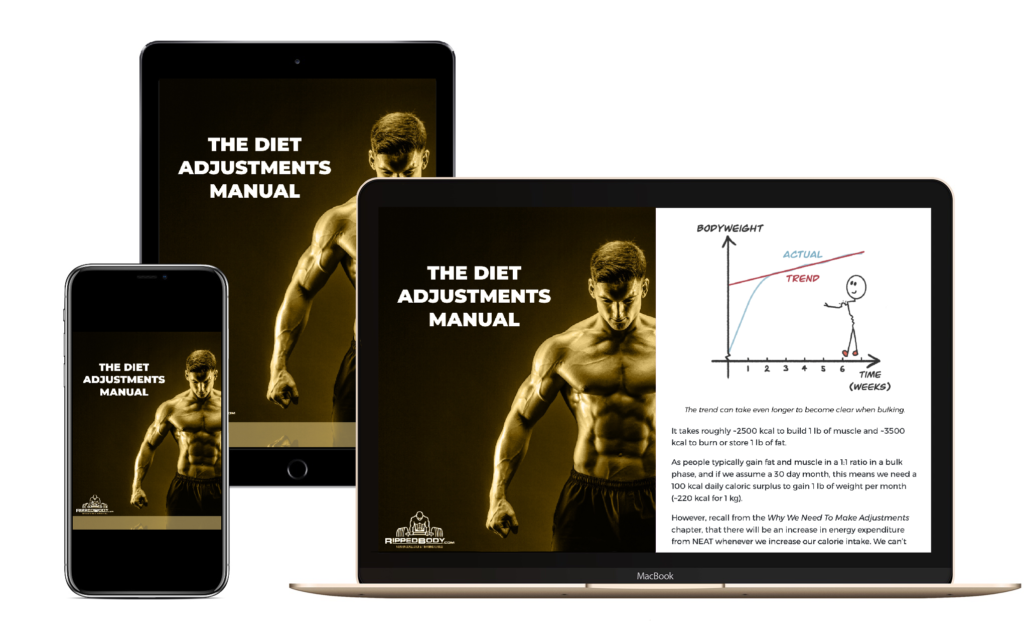 Thank you for reading. To learn more about adjustments for bulking, maintenance, cutting, and the transition phases between them, check out my book, The Diet Adjustments Manual.
Questions are welcomed in the comments. 🙏🏻❤️
– Andy
---
How To Adjust Macros FAQ
How do you know when to adjust your macros?
If your rate of weight change is not on target, you may need to adjust your macros. However, your weight will fluctuate within each day and across the week, so make sure you weigh yourself each morning, note the weekly averages, and compare across weeks.

1. If your diet adherence has been poor, you can't fairly judge the efficacy of your current macros, so make sure you fix that first.
2. If your sleep quality is poor or you are under a lot of stress, for those issues first as they can cause water retention, masking fat loss.

Refer to the detailed checklist:

How do I adjust my macros to lose weight?
To adjust your macros to lose weight, for every 0.5 lbs, you are short of your weekly weight loss target, subtract 250 calories from your daily food intake. Reduce carbs by 40 g, fat by 10 g — more examples of this in the table.
How should your macros be split?
Protein should be set by body weight. 1 g per pound of bodyweight is a good target for most, but obese people are best to set protein intake by 1 g per centimeter of height.

I recommend 15–25% of your calorie intake come from fats when cutting, 20–30% when at maintenance or bulking. The rest should come from carbs. This means roughly 2/3 of your remaining calorie intake after accounting for protein, should be split toward carbs, with the rest to fats. More on the reasoning for this here: How To Set Your Macros for Fat Loss and Muscle Growth.

People who prefer more fat in their diet can take that higher, but I typically recommend no higher than 25% of calorie intake come from fat when dieting (30% when at maintenance or bulking), as this seems to be the sweet spot.

Though it is not my default recommendation, a few people seem to do well on higher-fat diets than this. See my article: How To Systematically Test If Keto Is Right For You.