Online coaching has been my passion for the last ten years. I help regular guys craft better physiques than they thought possible.
They are successful in other areas of their lives and could do it by themselves, but they prefer to leave the decisions in the hands of an experienced professional.
Get inspired by what you see, but bear in mind that your results will depend on genetics, adherence, and effort.
IS ONLINE COACHING RIGHT FOR YOU?
If you are looking for someone to motivate you through your workouts, show you the correct form, or diagnose and correct some imbalances or injuries, you need to seek someone out locally.
If you are looking for a coach to lay out a long-term progress plan, keep you accountable, stop you from second-guessing your decisions and be there to tweak things to ensure you keep progressing towards your goals, then online coaching is worth consideration.
But you must be willing to push your comfort zone to make a lasting change.
AM I THE RIGHT COACH FOR YOU?
I am grateful if you enjoy my writing, but this does not necessarily mean my coaching style is right for you.
❌ If you prefer quick, text-message-like exchanges, this will not be a coaching fit.
❌ If you find detailed, nuanced email responses annoying, this will not be a good coaching fit.
❌ If you aren't familiar enough with my work to trust my opinion, this will not be a good coaching fit, and this page isn't here to convince you otherwise.
✅ If you like detailed email exchanges from a coach who will not shy away from telling you the sometimes uncomfortable truths you need to hear, I may be your guy.
HOW THE COACHING EXPERIENCE LOOKS
1. First, we will discuss your goals and make a plan.
I'll ask about your diet and training history, goals, progress, and struggles. I will tell you if I think I have the skillset to help, what is realistic, and what changes you'll need to make.
If we agree on the plan and estimated timeframes to achieve these goals, I'll send over pricing information.
2. If you become a client, I'll create an initial nutrition and training plan based on your schedule and preferences.
This includes macro targets and guidance on creating meals that fit your food preferences, and a training program tailored specifically towards your experience and goals.
3. You'll check in every two weeks with your progress data and some feedback questions.
Your job is to adhere to the plan. My job is to help you do that and tweak things if necessary to stay on target.
My goal is to help guide you to your independence. I do not aim for repeat business; I aim for referral business.
WHERE CLIENTS HAVE LIVED TO DATE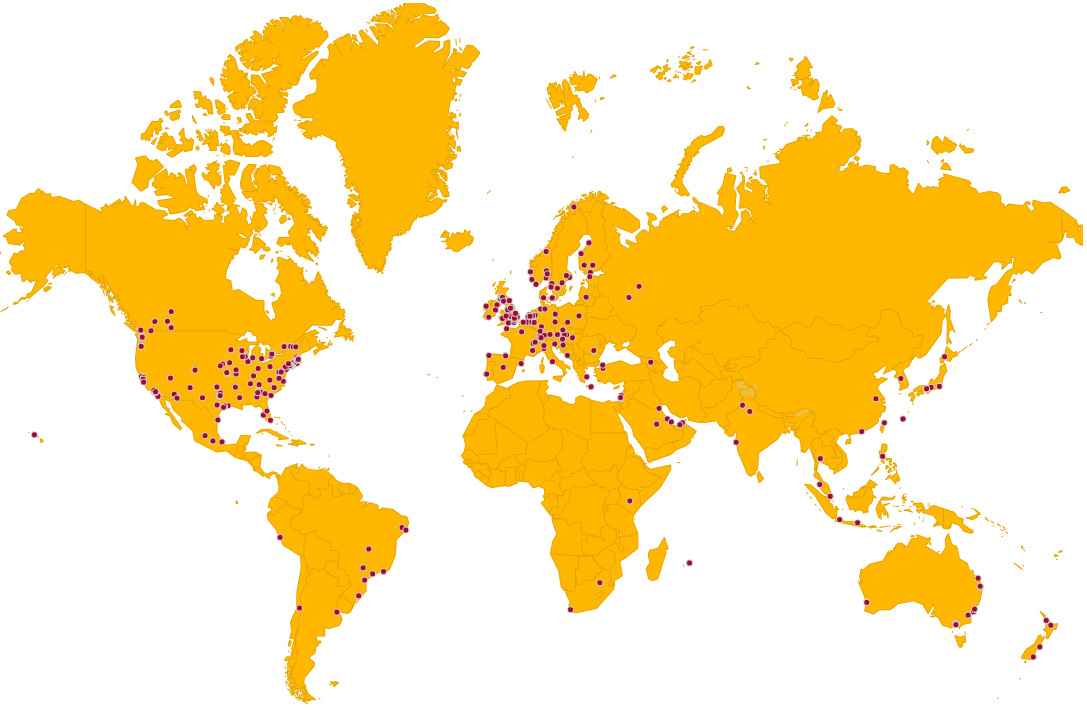 Expertise and excellence are only developed when focusing on a niche. So while I welcome all readers to the site, I do not work with all people.
I work exclusively with men. They are not athletes but working professionals with busy lives but committed to carving out time to look after their physiques.
All clients have significant training experience and are typically in the 28–55 year age range. Some are experienced with counting calories and macros, but others are new to it. This is fine. Attitude is everything.
---
COACHING ELIGIBILITY REQUIREMENTS
I do not make exceptions. My reasons for each are in the FAQ section.
You are male, over 20 years old.
You are in a stable financial position with no credit card debt.
You have weight training experience with no injuries or medical conditions that prevent you from training.
You eat meat. (I don't work with vegetarians.)
You are a natural trainee. (No steroids, current or past.)
You agree to follow my no-phone emailing policy.
THE NO-PHONE POLICY
I ask clients to all agree not to read or respond to emails from their phones.
Coaching takes place via email. Our emails form a valuable written record and reference tool.
Aside from the difficulties of working with spreadsheets, renaming, resizing, and attaching files, phones cripple the communication process because they make otherwise intelligent people unable to focus when reading and responding to carefully written emails.
Eliminating phones fixes this. It is a unique policy I have had for 10 years. It is a non-negotiable point.
Before any commitments are made, we need to find out whether we are a good fit. This process leads to better results and happier clients. I want you to be one of them.
1
Fill out the pre-qualifying form below.
3
I'll make a suggestion/prediction based on your goals, current condition, and training experience.
5
If the pricing is acceptable, we'll move forward.
2
I'll send you an application form with some questions.
4
You'll tell me your thoughts. If we agree on things, I'll then send over pricing information.
6
Start of coaching.
READY TO LEAVE THE FRUSTRATION BEHIND?