In the first lesson, I'll teach you why worrying about The Accuracy of your macro calculations is the wrong thing to focus on.
From there, I'll take you through the 5 most common nutrition setup mistakes that stop people from achieving their physique goals.
By joining this free, 7-lesson course, you'll learn:
Where to focus your nutrition set up for maximum results,
Why your weight will fluctuate and eventually stall,
What to do when that happens, and
How to adjust to get back on track.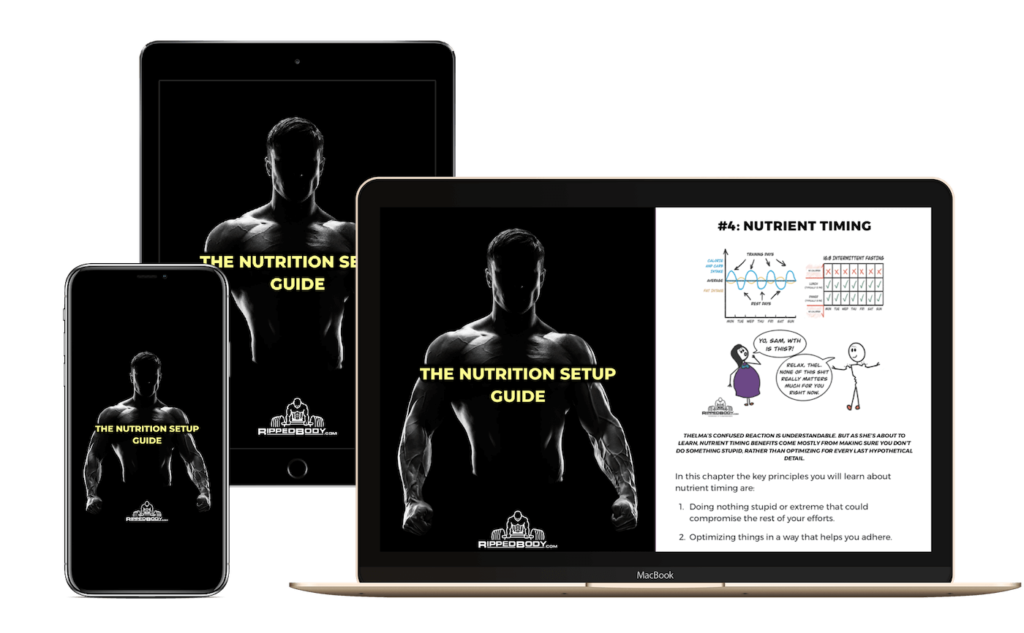 ---
Feedback from those who have taken the course…
It was detailed, informative, and very obvious how much time and care you have put into it. Honestly, it's the kind of thing I'd have expected to pay good money for and contained a lot of information I wish I'd known a long time ago. I wish I had found you and your website sooner, it's clear you're one of the good guys.

– Andy Palmer
I've always considered myself to be a hard gainer and I've already learned where my mistakes have been. I can't believe this is free. Thanks, Andy!

– Cory King
I just want to say your email list is the best I've ever subscribed to, of any kind. Thank you so much for your well-researched, honest, and valuable writing!

– Nicolas Ayllon
This was an amazingly informative course. It's still crazy to me that it was free.

I especially appreciated the content you had for mindset. I know I constantly get caught up in the whole am I doing this right and am I doing this fast enough. I truly feel empowered after reading the material. Thanks so much!

– Jessica Benton
The first thought that went through my head after doing this course was: how in the world is this free?

This course went far beyond the usual calories, macros and sciency stuff. I am going to be dealing with real people with busy lives; I understood the importance of the psychological aspect of fitness and how it is inseparable from your physiology.

– Praveen Srikanth
I thought this course was great! I am completing my masters in exercise science and looking at different paths for my career and studying for my personal training exam.The world needs more professionals like you! Thank you!

– Brie Liquori
I did not expect this amount of content, really. I know it was going to be good for sure, but not this good. It really helped me reafirm some things and to learn a lot more I did not know.

– Yerson Gutierrez
I started off my "wellness journey" weighing in at 255lbs in the summer of 2018 at 50 years of age. Losing the weight was easy compared to trying to juggle putting on muscle while also trying to minimize fat gain.

I experienced some of the "stalls" and "plateaus" you described regarding weight loss and now I have a better understanding of the process. Many thanks again!!!

– Ian Torr
The course is geared to a pretty high level and got me thinking about things in a very different way — if I'm going to work so hard in the gym why wouldn't I work just as hard outside of it?

Keep up the great work.

– Justin Conley
Almost everything I have seen online has been snippets of information here and there with some high-pressure sales pitch. I was shocked when I stumbled onto your free book a few days ago. It has answered many questions that had as I have tried to figure out how to take my training/progress to the next level.

– Nathan Nelson
With how much people in the fitness industry want to scam others, it's refreshing to see quality content for free.

This wasn't one of those "look here for guidance, but I'll only give you a snippet and you have to pay for the rest" type of deals either, and I really appreciate that.

– Nelson Luis Badía
Your material is fantastic and you offer a ton of value to people without asking for anything up front in return. Grateful to you for all of the info.

– Michael
I learned new stuff about nutrition that I didn't know and that is very useful to me (weight fluctuation, water retention and gut absorption) and I've never seen anyone on the internet create such a thing for free until now.

– Francesco De Caro, Italy
Extremely useful. I've been struggling to find a resource to help me meet my physical goals that isn't just trying to sell me something. Andy's course is that. He covers everything you need to know, thoroughly; and offers so many helpful tips and encouragement along the way. I'm grateful to have found him.

– Jake Lewis