#1 Calories, #2 Macros, #3 Micros, #4 Nutrient Timing, #5 Supplements
This is the fourth chapter in my five-part guide on nutrition for fat loss and muscle growth. Join 100,000 people and download the full PDF version here.
---
In this chapter the key principles you will learn about nutrient timing are:
Doing nothing stupid or extreme that could compromise the rest of your efforts,
Optimizing things in a way that helps you adhere,
Avoiding complicated strategies unless you need them for your sport.
It appeals to us that something as simple as changing the timing of things can have a potent effect.
People go mad for any shortcut, rather than actually putting in some effort. Marketers take advantage of this (flash a little bit of science while conveniently not talking about the bigger picture) to sell us on something new.
Getting the timing of things right most certainly has favorable effects on body composition, however, if you gloss over the most impactful, foundation levels of your nutrition plan (the calorie intake, macro composition, and micronutrition considerations) you are wasting your time, money and effort.
Consider the first three stages of the nutrition pyramid the foundation. Now we're going to look at the fourth stage while trying to not get lost in the meaningless details. Here's what we'll cover:
As with this series as a whole, this article is written in the order of importance that each addition will likely benefit you. The most important factor in all of this is that you adhere to your diet. So don't do anything here that is too tiresome or complicated for you to sustain.
---
Meal Timing: How Many Meals Should We Eat?
I suggest we eat the minimum number of meals that we can without compromising our goals unless your personal preference is for a higher number.
By eating fewer meals we simplify food preparation and macro counting. This improves adherence, which is key to success over the long-term.
Why I Recommend You Avoid Extreme Meal Frequencies
Eating one meal a day may be the simplest choice, but it is not going to be optimal for lean mass retention when dieting, nor muscle growth when bulking.
Further, as your stomach is of a limited size it will be very hard to get in the appropriate amount of fruit and vegetables for the day to meet your micronutrition and fiber needs, while still getting in enough calories in a single meal. Even if you feel good, I'd recommend you don't do this.
The only time I would give people a pass on this is for obese individuals who find it the easiest way to lose weight and curb their cravings, as the health risks of carrying so much body fat outweigh the risks of short-term micronutrient deficiencies. It is not an optimal long-term strategy.
Eating 6+ meals a day is the old-school "bro-science" choice, which harks back to the days when we thought this may have been superior for muscle growth.
The only people I can see needing such a high meal frequency are athletes who train multiple times a day They have very high energy demands and may find their performance impaired when training on a full stomach. The higher frequency of meals will also help with faster glycogen replenishment between workouts, which is only of concern to this group.
Do not try to copy athletes — the young ones tend to pay little attention to their diets because they haven't needed to yet, the older ones are drawn to the quacks of the industry as the reality of aging sets in and they start to look for an edge. People that call recreational trainees "athletes" are just tickling your ego. Which is fine, but just know the difference.
Meal Frequency Recommendations For Those Cutting and Bulking
For those cutting, it can be beneficial to have fewer meals because you can eat more at each meal. This is one of the benefits of skipping breakfast — enabling larger lunches and dinners.
The majority of my clients over the years skip breakfast when in a cutting phase and many choose to skip it when in a bulking phase. There is a caveat to this: for those who train fasted in the morning, I have them take a whey protein shake first to minimize the risk of muscle breakdown. (More details on this in the meal timing section.)
For those bulking, it can get to a point where it is not comfortable or practical to eat just two meals a day because of the volume of food that needs to be consumed. In this case, consider splitting your meals into three or four meals, or having liquid meals/snacks. Though there are likely no benefits to eating more than four meals a day, it is perfectly fine to do so if you wish.
There isn't any definitive research showing that eating more than two meals a day is beneficial to lean mass preservation when in a dieting phase. (I certainly haven't had any issue with clients either.)
There is research to suggest that eating more than twice may be more beneficial for muscle growth, but I can't say I have noticed any differences in client groups on average, between those who continued to skip breakfast and those who didn't.
I realize this can be nuanced, so I've tried to categorize the differences in the diagram below along with what I have observed.
You'll notice that there are diminishing returns to increases in meal frequency which likely disappears by the fourth meal of the day. Whether you care enough about the incremental differences between 2 and 3 meals, and 3 and 4 meals, is something you have to decide for yourself.
Physique professionals may wish to opt for the higher end to maximize any potential benefits. Recreational trainees don't need to complicate things this much.
Regardless of whether I'm cutting or bulking, I choose to eat two meals and have a morning shake before training. But I like to optimize my life for simplicity and don't think the additional meal is worth the trade-off. You do you.
I'll say again, I haven't noticed any differences in outcome between clients who ate 2–4 meals. However, although this is a large sample size (1000+ clients over 9 years), probably 80% were cutting.
---
Meal Timing: When Should We Eat?
Nutrient timing is not as important as we once thought it was. There are three fairly simple rules to follow when it comes to meal timing during the day. As long as you follow them, you should be totally fine.
1. Don't train completely fasted
I myself, as well as many clients, prefer to train first thing in the morning without having eaten a meal prior. If you choose to do this also, make sure you have a whey shake 30–60 minutes before you start lifting heavy so that when your body seeks amino acids (the building blocks of protein), it takes them from your bloodstream rather than breaking muscle down to get them.
Whey protein is better than EAA or BCAA supplementation in this scenario. It is fast-digesting (a good thing in this context) at a rate of 8–10 g per hour, therefore, if your first meal of the day is more than 3 hours after your first scoop was taken, take a second scoop. — You'll see this in the first example below.
(I prefer to have 50 g of whey in the morning rather than splitting it into two shakes. This may be a fraction less optimal, but I don't think it will make a meaningful difference.)
If you find yourself struggling to train with the same intensity you usually do, have 30–60 g of carbs with the shake. This can be as simple as eating a banana or two (or anything you find easy to digest).
Toward the end of a cut, when your liver and muscle glycogen stores are low, this could help you maintain training intensity.
Avoid fat as this could cause stomach upset.
Personally, I feel completely fine without this, but I want to state it here as an option.
2. Spread Your Meals evenly Across the day
If you eat twice per day, make that lunch and dinner, and roughly 7-9 hours apart. If you eat three times per day, make it breakfast, lunch, and dinner.
Feel free to eat a little less in one meal than the others (if you train in the early afternoon, you might want a light lunch so you don't feel nauseous).
Don't do anything weird like bunching all your meals in the space of a few hours.
3. Spread your macros evenly
As long as meals are evenly spaced, there is likely very little benefit to worrying about more specific protein or carbohydrate timing.
You don't need to slam a protein shake immediately after your workout because you will still have amino acids in your blood-stream breaking down from the meal consumed earlier.
You don't need to have carbs right before you train because your muscles will still have glycogen in them to fuel your training from meal(s) prior, or even the day prior. (Glycogen is like the fuel tank of a car — if you fill up the night before, it'll still be in the tank even if you didn't go for a drive.)
You don't need to have carbs immediately after you train. Yes, some research looking at muscle protein synthesis over the course of a day has hinted that this may be beneficial, but it just hasn't panned out in longer time frame studies.
Avoid skewing your fat, protein, or carb intake across the course of a day too heavily. You may still find some people saying that eating fats and avoiding carbs at the start of the day and vice versa at the end of the day is beneficial. There's no evidence for that, it complicates things, and I'd be willing to bet that it's a net negative.
---
Nutrient Timing: When To Eat, Relative To When You Train
Here are some detailed meal timing examples of when to eat, relative to when you train. I'll cover whether you may want to consider skipping breakfast in the next section.
Early Morning fasted training
This setup is the most popular with clients. They all have full-time jobs and most have families, so they choose this because it allows them to train before the rest of the day takes its toll. The key isn't waking up early, it's going to bed consistently earlier so that you can wake up early while still being rested.
| | |
| --- | --- |
| IF SKIPPING BREAKFAST | IF EATING BREAKFAST |
| 05:30 25 g whey (optional banana) | 05:30 25 g whey |
| 06:00 Training | 06:00 Training |
| 08:30 25 g whey | 07:00 Breakfast |
| 12:00 Lunch | 13:00 Lunch |
| 20:00 Dinner | 20:00 Dinner |
Mid-Morning Training
When I'm in a writing/creative phase, I wake early to work before any distractions, then hit the gym mid-morning. My preferred setup is the left column.
| | |
| --- | --- |
| IF SKIPPING BREAKFAST | IF EATING BREAKFAST |
| 08:30 25 g Whey | 07:00 Light Breakfast |
| 09:00 Training | 09:00 Training |
| 12:00 Lunch | 12:00 Lunch |
| 20:00 Dinner | 20:00 Dinner |
Lunchtime Training
This is popular with folks who can take a slightly longer lunch than the typical hour and have a gym close to their office (or in the same building). The key to success is often preparing lunch the night prior.
| | |
| --- | --- |
| IF SKIPPING BREAKFAST | IF EATING BREAKFAST |
| 11:30 25 g Whey | 07:00 Breakfast |
| 12:00 Training | 12:00 Training |
| 13:00 Lunch | 13:00 Lunch |
| 20:00 Dinner | 20:00 Dinner |
Early-Afternoon Training
Fewer clients do this, but it works equally well.
| | |
| --- | --- |
| IF SKIPPING BREAKFAST | IF EATING BREAKFAST |
| – | 07:00 Breakfast |
| 12:00 Light lunch | 12:00 Light lunch |
| 14:00 Training | 14:00 Training |
| ~15:30 25 g Whey & banana | ~15:30 25 g Whey & banana |
| 20:00 Dinner | 20:00 Dinner |
Evening Training
Training in the evening is completely fine, but if you find that stuff often comes up which prevents you from leaving work early to do it, consider training in the morning.
| | |
| --- | --- |
| IF SKIPPING BREAKFAST | IF EATING BREAKFAST |
| – | 07:00 Breakfast |
| 12:00 Lunch | 13:00 Lunch |
| ~17:00 Training | ~17:00 Training |
| 20:00 Dinner | 20:00 Dinner |
Late-Evening Training
This type of setup is best avoided if it impacts the duration or quality of sleep.
In this specific case, a slow-release protein shake like casein may be better than whey prior to bed. (A pre-prepared small chicken breast would do equally well if not better, and the banana is just an example of some quick and easy carbs.)
| | |
| --- | --- |
| IF SKIPPING BREAKFAST | IF EATING BREAKFAST |
| – | 07:00 Breakfast |
| 12:00 Lunch | 13:00 Lunch |
| 19:00 Light dinner | 19:00 Light dinner |
| ~21:00 Training | ~21:00 Training |
| 22:00 50 g Protein & banana | 22:00 50 g Protein & banana |
Some people find that carbs make them sleepy. Breakfast eaters that feel lethargic mid-morning should consider eating fewer calories from carbs, and more calories from fats at breakfast time, and reversing this at dinner. Breakfast skippers should do this but with lunch. As an added bonus, this may help you sleep better in the evening.
A small percentage of clients find that a large meal before bed disturbs their sleep. If this causes you to sweat or just otherwise feel uncomfortable, eat one or two hours earlier or reduce the calorie content of your evening meal.
The idea that eating before bed makes you fat is a myth.
---
Should You Try Intermittent Fasting?
I do it, many of my industry friends do it, and many of my clients do it also. However, there are a few different types of intermittent fasting (I.F.), and they are not all created equal.
Alternate day fasting is where you eat one day then don't eat the next. This is often advertised as "Don't eat one day and then eat whatever you like!" This can cause rapid weight loss but it encourages binge-starve behavior cycles and I do not recommend it.
5-2 intermittent fasting involves two ~24 hour periods per week with no food. You just skip three consecutive meals, twice per week, but not on the same day so that you're always eating something on any given day.
As consistent meal times can help with hunger regulation, I do not recommend 5-2 I.F. either.
16:8 intermittent fasting involves skipping one meal, typically breakfast, partially because this is the easiest to stick to as it has the least social consequences. It can help create the calorie deficit needed for fat loss by removing 1/3 of the meals people typically eat from their week.
You may have success with any of these methods of intermittent fasting for a while, but it is likely that at some point you will need to count calories because your body's compensatory mechanisms will drive you to eat more without you realizing it.
Leangains-Style Intermittent Fasting
Leangains is a style of 16:8 intermittent fasting developed by Swedish nutritionist Martin Berkhan. It combines skipping breakfast with fluctuating calorie and macro intake — more calories and carbs are consumed on the training days; fewer calories and carbs are consumed on the rest days. Fat intake is lower on the training days, and more on the rest days.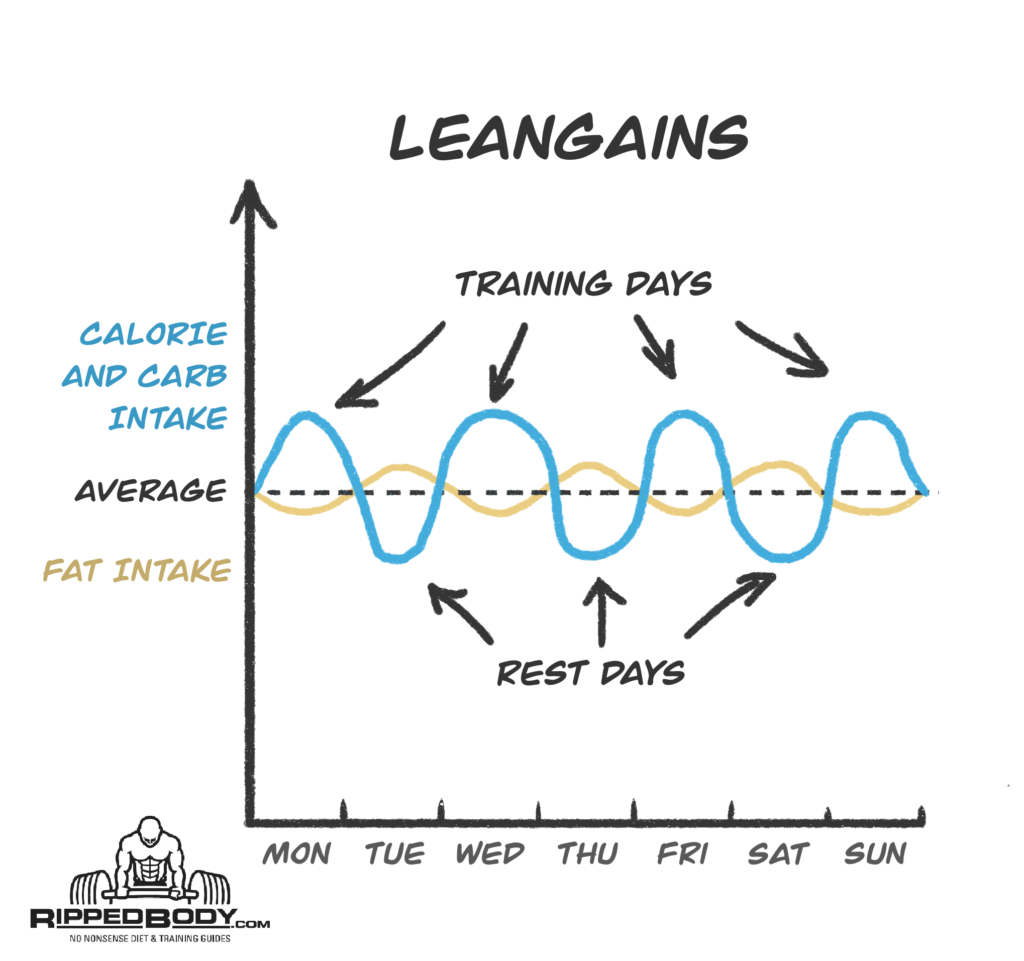 Martin popularized the 16:8 term by telling people to eat all their food within an 8-hour window. So, Leangains preceded 16:8 I.F., which can be considered a simplification, but skipping breakfast is not exactly new.
So where does the 8-hour window come from and why is this not 7 or 9 hours?
Marketing and practicality, in my opinion. You have to give people easy-to-understand rules or they'll screw themselves up. If I say to people, "Hey, skip breakfast and just eat two meals," then a certain portion of people will put two meals too close together to be optimal. Six hours is the closest spacing I'd suggest, eight hours is probably a little better, but a little longer is fine.
Why did Martin choose to fluctuate calorie, carb, and fat intake?
This is an attempt at getting more favorable calorie partitioning. More calories and carbs on the training days when they can be utilized for growth and recovery, with a low fat intake to minimize the risk of any storage. The rest days just flip it, so that the balance for the week is maintained.
Does this make a difference?
Probably not. Still, I offer a pattern similar to this with clients because it breaks the monotony of dieting.
Leangains Benefits
Meal prep is less time-consuming.
You're less likely to make counting mistakes.
Fewer meals mean larger meals for the same calorie budget, which is more psychologically satisfying.
There is a lack of hunger in the mornings after an initial adjustment phase, which is usually 5–7 days.
People also report an increased focus in the mornings. (I am one of these people and this is when I like to get my hardest cognitive tasks for the day done.)
The majority of clients choose to do this but it is their choice, not my demand. My advice: try it, see if you like it. If not, don't worry, you're not missing out on anything magical.
Leangains Drawbacks
There is a higher risk of muscle loss when dieting. The scientific literature isn't clear on this. I can't say I have noticed any meaningful muscle losses after coaching hundreds of clients to a shredded lean condition, but it's important to consider I work with serious recreational lifters, not competitors looking for an edge.
It's likely less optimal when bulking. The scientific literature suggests that it is likely better to space meals out further.
If you have a history of disordered eating then you probably shouldn't be doing any form of fasting as it can be used as an excuse to legitimize your behavior.
It's more complicated, which can make it harder to adhere to. The increased variety across a week can improve adherence for some, but it's also another layer of complication that can ruin adherence for others.
---
Refeeds, Calorie Cycling, Macro Cycling, and Cheat Days
Calorie and macronutrient intake do not have to be the same each day of the week.
I will commonly incorporate these strategies into diet plans for clients, but I don't pretend that they have as strong support in the scientific literature for improving outcomes as the other things I have discussed up until this point.
Why include them? They provide a helpful break from the monotony of dieting by introducing some variety in possible food options across the week.
Will they be beneficial beyond that? Probably not for beginners and early intermediates, possibly for those more advanced. So only implement these strategies if they help improve your adherence, not hinder it due to the added complication.
Calorie cycling And How To Implement It
Calorie cycling is the name given when different days of the week have different calorie targets.
Most people intend their diets to look like this:
But in reality, they usually look a little more like this:
I call this unintentional calorie cycling.
If you find yourself keeping to your diet during the week but struggling at the weekends, consider building more flexibility into your plan to allow that.
So for example, to maintain the daily average calorie intake, you could eat 300 calories fewer on the weekdays so that you can eat 750 calories extra on the weekends:
To do this, "borrow" 50 g of carbs and 10 g of fat from your weekdays and "lend" Saturday and Sunday 125 g of carbs and 25 g of fat each.
The most common pattern I use with clients is having them eat more on the days they train and less on those they don't. Here's what that looks like with a four-day training split:
I have set the macro calculator to calculate rest day calorie intake at 20% lower than the training days. I recommend avoiding fluctuations much greater than this as it will make adherence harder and likely compromise results.
Calorie Cycling Gone Wrong
Cheat days are the name given to days where people eat whatever they want. They have no place in a diet and I strongly suggest you avoid them.
The most common pattern of people screwing up their diets (or getting fat when they bulk) is staying tight during the weekdays and blowing it all on the weekend. It is perfectly possible to do this over one day as well.
Think about it like this: if you're targeting 1 lb per week of fat loss (0.45 kg) you need a 500 kcal deficit each day. This means that over the weekdays you will have built up a 2500 kcal deficit. But if you eat (or drink) 2500 kcal extra over the weekend, you are back where you started.
Those who are perfect 6 days a week and think they can't overdo it by eating 3000 kcal on a weekly single "cheat" day are kidding themselves also.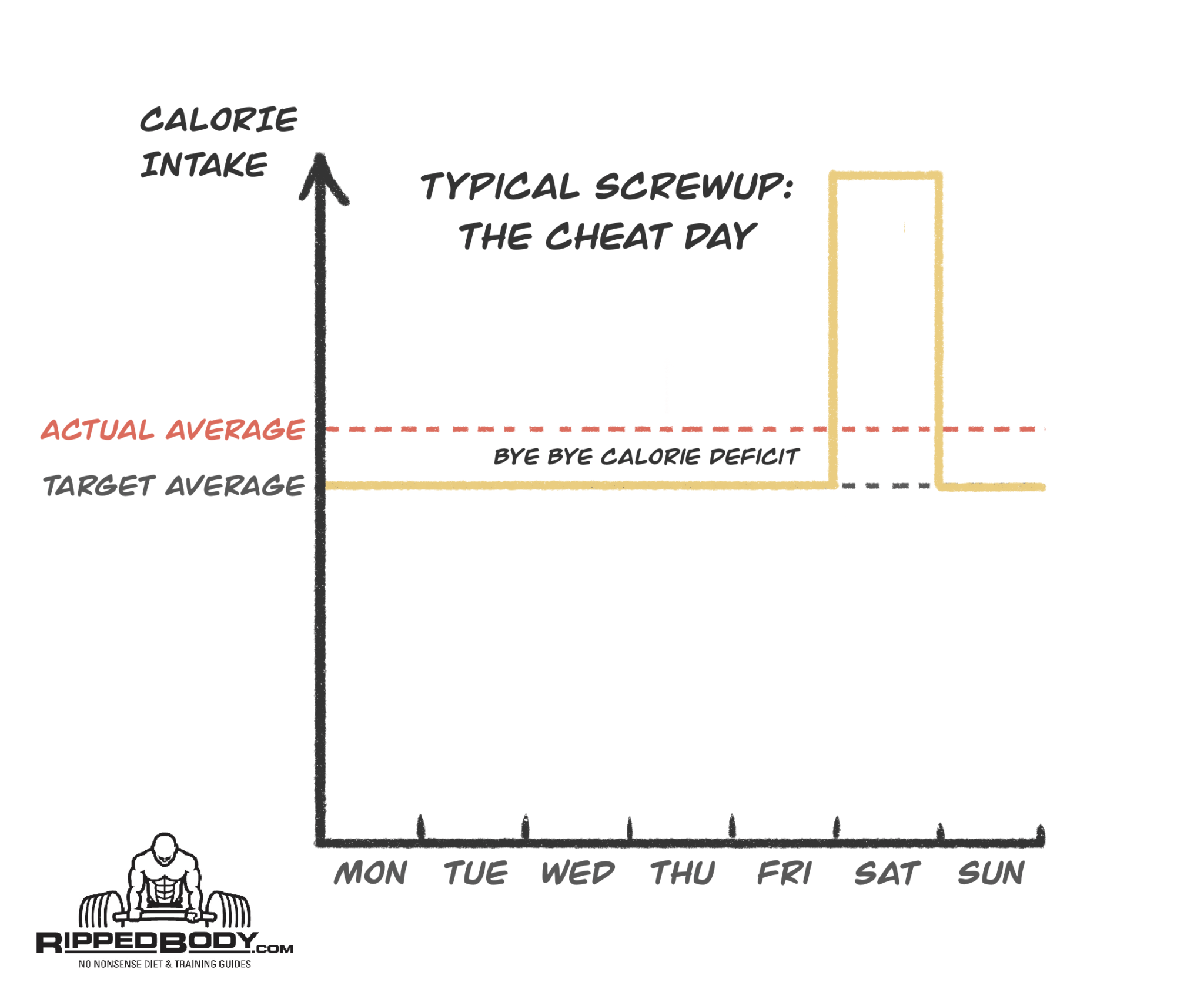 We can build some flexibility into our diet, but do not label these days "cheat" days.
Macro Cycling and How To Implement It
Macro cycling is the name given when different days of the week have different macros targets.
People do this with a goal to improve body composition, training effect, or performance.
An example of this would be eating more carbs and less fat on the days you train; more fat and fewer carbs on the days you don't. I recommend you avoid extreme splits in macro intake as that could also compromise recovery and hamper adherence.
I have set the calculator to calculate the rest day fat intake 20% higher than the training days. As carbs balance the calorie budget, this means the training days have more carbs than the rest days. (See examples at the end of this section.)
What Are Refeeds?
Refeeds are the name given to days where more calories and carbs are eaten. The idea is to replenish muscle glycogen and help boost performance during cutting phases.
Some people do this every training day (like with Leangains), but when most people talk of refeeds they are referring to a once per week, carb-heavy day, which is often above caloric maintenance. Often fat intake will be limited on these days in a bid to minimize storage, though whether this has any effect is unclear.
Refeed days still have specific macro targets, but when they don't, they are called cheat days, not refeeds, and these should be avoided for the reasons discussed.
---
Example Calorie, Macro Cycling, and Refeed Calculations
Note: I will purposefully spare you the math in this section. But if you wish to see the formulas used, hover or click for the calorie cycling math1 and the macro cycling math2.
Note how personal preference is the reason behind the choice for all of these examples. Also, note that in the section on macros we rounded to the nearest 5, which is why the total calorie numbers don't exactly match.
FREDDIE's Cut With Added Weekend Flexibility
Freddie's daily calorie target is 1824 with the following macros: 180 g of protein, 40 g of fat, and 185 g of carbohydrate.
He decides that he wishes to sacrifice some flexibility on the weekdays so that he has a calorie buffer on the weekend. As he doesn't want to go any lower with his fat intake, he chooses to "borrow" 40 g of carbs from his weekdays. This gives him an additional 800 kcal (40*4 kcal*5 days) to "spend" across his Saturday and Sunday. He chooses to split the 400 kcal additional budget between fats and carbs evenly, so he adds 20 g of fat and 55 g of carbs to these days.
Freddie's weekday calorie target is 1660 with the following macros:
Protein: 180 g
Fat: 40 g
Carbs: 145 g
Freddie's weekend calorie target is 2240 with the following macros:
Protein: 180 g
Fat: 60 g
Carbs: 240 g
---
SHREDDED SAM'S Savage Consistency
Sam's daily calorie target is 3107 with the following macros: 175 g of protein, 105 g of fat, and 370 g of carbohydrate.
Sam is bulking so he doesn't feel particularly restricted and he chooses to keep his macros as they are.
---
Thicc Thelma'S Fat Macro Adjustment
Thelma's daily calorie target is 1397 with the following macros: 130 g of protein, 40 g of fat, and 130 g of carbohydrate.
Thelma wants to make her life easier, not more difficult by adding a layer of complication, so she decides against calorie or macro cycling. As she prefers a little more fat in her diet, she chooses to swap 20 g of carbs for an additional 10 g of fat.
Thelma's macros become 130 g of protein, 50 g of fat, and 110 g of carbohydrate. (Technically, this is a 10 kcal difference, but such small amounts don't really matter.)
---
Natalie's Calorie and Macro Cycling
Natalie's daily calorie target is 2254 with the following macros: 135 g of protein, 50 g of fat, and 315 g of carbohydrate. She wants to do both calorie and macro cycling, as she feels it will add variety in her diet each day which will make things easier to adhere to.
Natalie's calorie target on her three strength training days is 2545 with the following macros:
Protein: 135 g
Fat: 45 g
Carbs: 400 g
Natalie's calorie target on her four non-strength training days is 2036 with the following macros:
Protein: 135 g
Fat: 55 g
Carbs: 250 g
---
Nutrient Timing Summary Guidelines
Avoid any extremes. Nutrient timing is about doing nothing stupid, first and foremost.
Eat 2–3 meals when cutting, 3–4 meals when bulking.
Don't train completely fasted.
Spread your meals evenly across the day.
Spread your macros evenly across the day.
Feel free to skip breakfast if you prefer to do so and find it easier, but don't expect different results.
Feel free to use calorie cycling, macro cycling, and refeeds if you feel doing so will help you adhere. But don't expect noticeably different results.
If you're a physique competitor, a slightly higher meal frequency may be to your advantage, so consider it unless it will throw off your adherence.
If you are a physique competitor, consider calorie and macro cycling unless it will throw off your adherence.
Thank you for reading. Questions welcomed in the comments.
– Andy
» Reference List
Your training day calorie intake = (Target average daily calorie intake*7)/(Number of training days per week+(Number of rest days per week)*(1-(chosen percentage calorie difference between training and rest days)/100)) Your rest day calorie intake = ((Target average daily calorie intake*7)/(Number of training days per week+(Number of rest days per week)*(1-(chosen percentage calorie difference between training and rest days)/100))))*(1-chosen percentage calorie difference between training and rest days)
Your training day fat intake = ((Target average daily fat intake*7)/(Number of rest days per week+(Number of training days per week)*(1-(chosen percentage difference between training and rest day fat intake)/100))))*(1-(chosen percentage difference between training and rest day fat intake)/100)) Your rest day fat intake = (Target average daily fat intake*7)/(Number of rest days per week+(Number of training days per week)*(1-(chosen percentage difference between training and rest day fat intake)/100)))