Q) Is drinking a whey protein shake with two scoops (~50 g) of protein wasteful?
Your nutrition setup guide said many fat-loss clients train in the morning after only a big protein shake. They then have just a big lunch and then dinner. But a coworker told me we can only absorb 25 g of protein at a time, with the rest excreted as urine, wasting the protein. Is this true?
– Paul
–
A) Paul, thank you for the question.
Protein is expensive. This would mean you're leaving significant muscle growth on the table, and pissing money down the drain. I understand your alarm but rest assured; this is a myth.
Rest assured, this is a myth. But to explain where it comes from, I need to back up for a second.
Muscle growth occurs when muscle protein synthesis (MPS) exceeds muscle protein breakdown (MPB) over time.
In the case of protein research, we have:
Short-term studies comparing muscle protein synthesis after meals (or shakes) containing different protein amounts.
Longer-term research measuring muscle growth over many weeks in response to different meal timings and protein intakes.
Short-term studies (cheaper and easier) are used to test ideas before running longer-term studies which measure the thing we actually care about — differences in muscle growth.
Now, this idea that we could only absorb 25 g of protein per meal comes from a study in 2009 that showed that 20 g of high-quality protein was enough to trigger a maximum anabolic response (highest MPS), and 40 g did nothing more. It was hypothesized that the rest would be wasted from a muscle-building standpoint.
Enter the dogma of "eat 6-7 meals a day to maximize muscle growth." Because if we have research showing that roughly 1 g per pound of target body weight is an optimal level of protein intake for people, then the average person has to drastically increase their meal frequency to not "waste" protein. A 200 lb man trying to diet to 175 lbs would need to split their protein intake into 7–8 meals!
(The supplement industry pushed this narrative heavily.)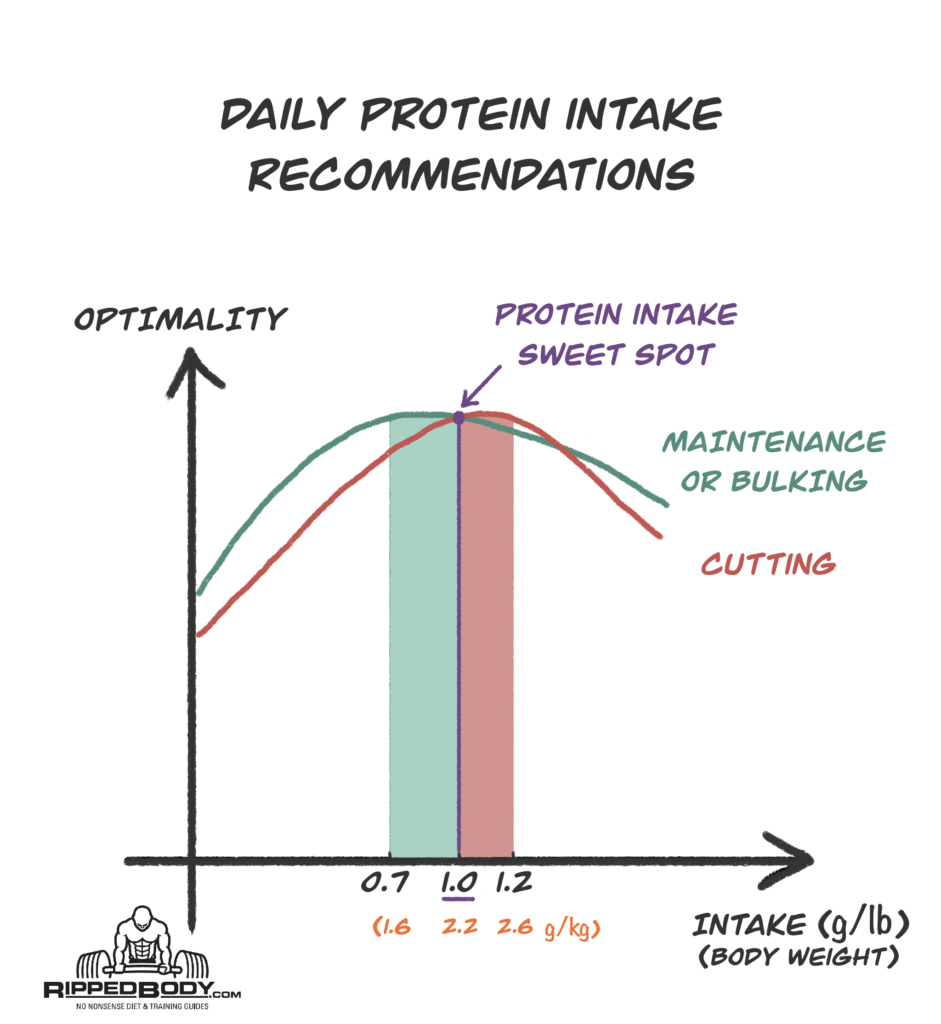 However, this logic was always suspect because:
Experience with client results didn't show any differences.
Millions in bodybuilding culture in the decades prior didn't seem to need it
And most importantly, longer-term studies comparing 3–4 meals vs. higher meal frequencies didn't show significant differences in muscle gain (or retention when dieting).
Anyway, more recent research in 2016 by Macnaughton et al. reported greater MPS with 40 g vs. 20 g of whey after a high-volume resistance training session, and Park et al. in 2020 reported greater MPS with 70 g vs. 35 g of beef protein with a meal.
And so, we now have short and longer-term research suggesting that meal frequency, within reasonable limits, isn't a big deal. We don't have to avoid meals (or shakes) with more than 25 g of protein for fear of waste.
👉 So, the 200 lb man from our earlier example trying to diet to 175 lbs can eat 60 g per meal across three meals or 45 g per meal across four meals.
The body adapts to different meal frequencies, as it does to many things.
Go from a low-fiber diet to a very high-fiber diet, and you'll find yourself running to the toilet often; gradually increase fiber intake, and you'll be fine. Remove all dairy from your diet, and you'll become lactose intolerant (your small intestine stops producing the digestive enzyme lactase); gradually increase it again, and you'll be fine.
So remember, what we observe in a single day in a lab doesn't always extrapolate into meaningful long-term outcomes. And if something fails a common sense test, you can probably ignore it. 👊