WHAT IS LEANGAINS?
Skip breakfast, eat big meals, train hard and heavy — these are the core principles of Leangains.
There is a school of thought that it can be beneficial for nutrient partitioning (and therefore body composition changes) to have more calories on the days you work out, and less on the days you don't.
Swedish nutritionist Martin Berkhan took this a step further by experimenting with higher carb/lower fat intake training days, and higher fat/lower carb intake rest days, while combining it with morning fasts. It can, therefore, be considered a form of intermittent fasting (IF).
This is my guide to Martin Berkhan's 'Leangains' system of nutrition setup. I have used this with my online nutrition and training clients and iterated on it over the years.
In this guide (updated in 2020), I talk about the benefits and give detailed meal timing examples for those looking to set up their diet in the Leangains way.
I also point out the claims which I don't think we have sufficient evidence to make, and places where I would advise people to set things differently from Martin's original guidelines, based on what I now know after nine years of working with people.
THE BENEFITS OF LEANGAINS
1. Reduced hunger when dieting
For a person looking to lose weight, this is one of the biggest benefits offered by IF as opposed to other dieting systems. Skipping breakfast allows for bigger, more satisfying meals.
Some worry that they will experience hunger in the mornings. This is true initially, but after a few days the body the body's hormones, notably the hunger hormone, ghrelin, get used to the new eating pattern and adjust so you no longer feel hungry in the mornings. It tends to take people ~5 days, so give yourself a week.
2. It's easier to plan meals
With fewer meals, there is less meal prep, it's harder to screw up your macro counting, and you have more time in your day to live your life.
3. Easier to remove stubborn fat
This is a claim that hasn't been proven. My experience working with clients suggests that getting shredded lean seems to be less of a hassle when using this method, but that could just be down to the first two points.
LEANGAINS MEAL TIMING GUIDELINES
1. Eat at all your meals in an 8-hour 'feeding' window. Don't go significantly shorter or longer than that.
2. It's better to skip breakfast and fast in the morning, as that's easier to stick to socially.
3. Don't eat or drink anything with calories during the time you are fasting. So, water, black coffee, and diet sodas are fine. (Point 7 is the exception.)
4. It'll take your body 3–7 days to get used to the new meal pattern. Hunger pangs will happen until then if you're not used to skipping breakfast.
5. Don't leave longer than two hours after your training without eating anything. Keep things as simple as possible; eat 2–3 meals per day.
6. Choose your training time based on when you feel best and have time to do it. But if you train late in the day, make sure that you have time to eat a meal after.
7. If you train fasted (before having eaten anything that day) as half my clients do, take a scoop of whey (~25 g of protein) 30–60 minutes before your workout. Take another scoop if your next meal isn't within 3 hours of that.
8. Spread your calories out evenly throughout your feeding window. Make sure you eat something after you train.
9. You'll have a higher calorie intake on the training days, less on the rest days. You'll have a higher carb, lower fat intake on the training days, and vice-versa on the rest days. I have a separate guide to calculating your Leangains macros, which I've linked to at the end of the article to save you the math.
10. There are multiple ways you can set things up, but as long as you keep to these principles, then you will be fine. I've expanded below with specific suggestions.
---
LEANGAINS Fasting MEAL TIMING Examples
EARLY-MORNING FASTED TRAINING
This setup is the most popular with clients. They all have full-time jobs, and most have families, so they choose this because it allows them to train before the rest of the day takes its toll. The key isn't waking up early; it's going to bed at a consistently early enough time so that you can wake up early and be sufficiently rested.
05:30 25 g Whey (optional banana)
06:00 Training
08:30 25 g whey
12:00 Lunch
20:00 Dinner
MID-MORNING TRAINING
When I'm in a writing/creative phase, I wake early to work before any distractions, then hit the gym mid-morning. My preferred setup is the left column.
08:30 25 g Whey
09:00 Training
12:00 Lunch
20:00 Dinner
LUNCHTIME TRAINING
This is popular with folks who can take a slightly longer lunch than the typical hour and have a gym close to their office (or in the same building). The key to success is often preparing lunch the night prior.
11:30 25 g Whey
12:00 Training
13:00 Lunch
20:00 Dinner
EARLY-AFTERNOON TRAINING
Fewer clients do this, but it works equally well.
12:00 Light lunch
14:00 Training
~15:30 25 g Whey & banana
20:00 Dinner
EVENING TRAINING
Training in the evening is completely fine, but if you find that stuff often comes up, which prevents you from leaving work early to do it, consider training in the morning.
12:00 Lunch
~17:00 Training
20:00 Dinner
LATE-EVENING TRAINING
It's better to avoid training at this time if it impacts the duration or quality of your sleep.
In this specific case, a slow-release protein shake like casein may be better than whey prior to bed. (A pre-prepared small chicken breast would do equally well if not better, and the banana is just an example of some quick and easy carbs.)
12:00 Lunch
19:00 Light dinner
~21:00 Training
22:00 50 g Protein & banana
---
Beware of The Intermittent Fasting nonsense
Intermittent fasting reached a peak of popularity in 2013. Unfortunately, with this popularity, the fitness industry charlatans came out of the woodwork to capitalize on it. This led to a lot of silly claims being made about Intermittent Fasting.
The timing aspects of Leangains are here to make your life easier. But you can't just skip breakfast and expect to suddenly get ripped without paying attention to your calorie and macro intake. Calorie balance is what determines whether weight will be gained or lost.
My Fasted Training Recommendations Differ
I'll cover these points for completeness. The caveat is that I haven't been keeping up to date with the Leangains site for the last few years.
When Training Fasted, Take Whey Protein Not BCAAs
Martin recommends 10 g of EAAs 10 minutes prior to training, then every 2 hours until the first meal. (He previously recommended BCAAs.) I say whey protein is better than both of these options, which is why they feature in the guide above.
I Don't Recommended Reverse Pyramid Training
Martin recommends a 3-day, high intensity of effort, low volume, reverse pyramid training (RPT) workout. The squat, deadlift, bench press, overhead press, and chin-ups as the core movements.
For many people, this is the slap in the face they need to snap out of their permanent gym fuckarounditis as it forces people to train hard, and the numbers don't lie. In a way, Martin has done the world a favor by popularizing low-volume, high-intensity RPT.
However, while this has worked well for Martin and some of his clients, it is far from appropriate for all people at all times.
The problem is, people can't handle nuance. Give people options, and they get decision paralysis. So I don't blame Martin for promoting this one style, but it has led some people to believe this is the right way for all people at all times.
It's absolutely not.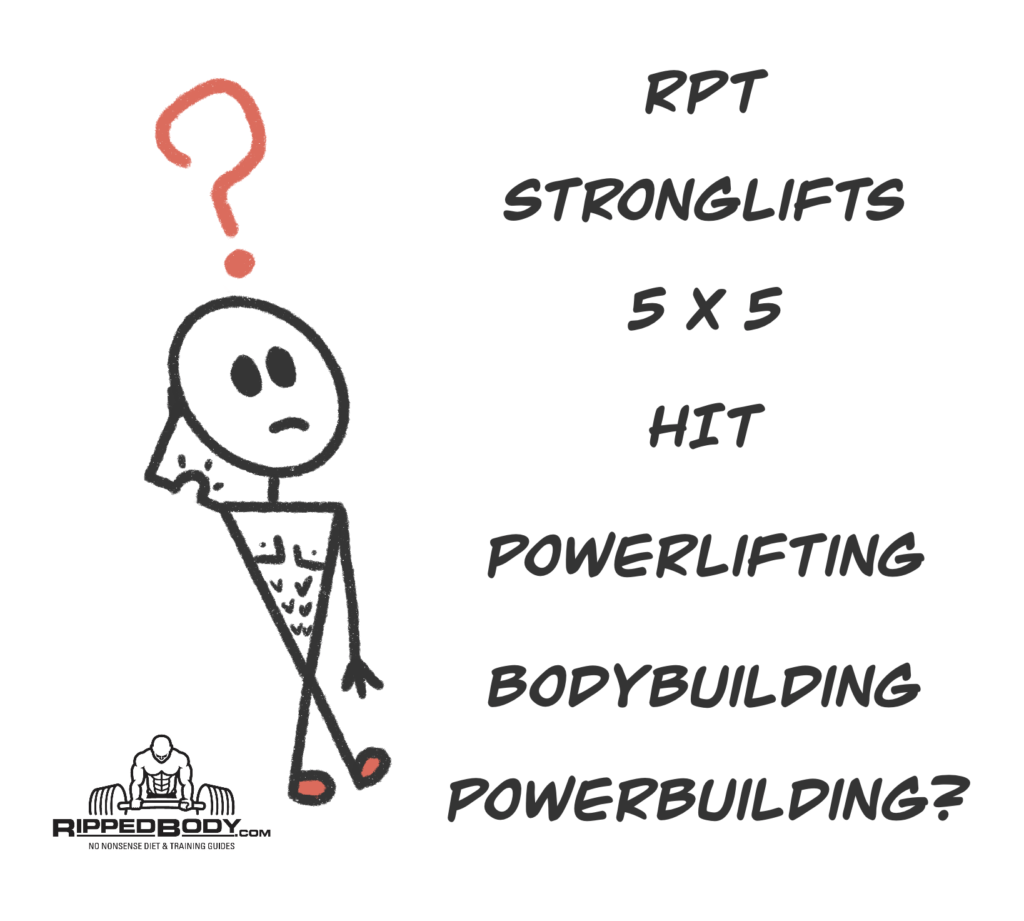 Any effective training program can be paired with Leangains diet principles.
You do not have to use these exercises if you have mobility limitations, a prior injury history, or you just don't like them. There are plenty of other options, as you'll see in my guide to exercise selection.
The scientific literature is pretty clear at this point that training volume is the key driver of hypertrophy. So past a certain point, you'll need to train more.
RPT training sessions can be brutally hard as they go to failure. Training to failure can limit the frequency with which we can train. The scientific literature is now clear that while it's important to train hard, it's not necessary to go to failure all the time.
See my guide to choosing the right training program for options.
---
Leangains FAQ
What is Leangains?
Leangains is a nutrition and training system founded by Swedish nutritionist Martin Berkhan in 2008. Leangains is where the "16:8" style of intermittent fasting comes from, where people fast daily for 16 hours and only eat during the last 8. The emphasis is on real food and high protein meals. Most people skip breakfast and eat only a big lunch and dinner.

Martin recommends an abbreviated training approach called Reverse Pyramid Training. It focuses on gaining strength in the compound lifts, particularly the Squat, Bench, Deadlift, and chin-ups. I've coached hundreds of people with this method over the last decade, and though I don't agree with everything Martin says, I believe it's a sound system that cuts through the typical industry nonsense.
What do you eat on Leangains?
Leangains users eat a high protein, high carb, relatively low-fat diet. Though there aren't rules on what to eat, chicken breast, lean pork loin, and lean beef mince are popular ways to meet protein targets due to the low fat content. Though rice and pasta are good options to meet carb requirements, white potatoes have the highest fullness and satiety rating and are the best 'bang for your buck' to preventing hunger when dieting. The final step of my macro calculator will show you what quantities you should eat for your goals.
Can you drink coffee on Leangains?
Yes. Black coffee has around 5 calories, but any extras can quickly add up. It's best to drink black coffee in the morning during your 'fasting window,' but an artificial sweetener and splash of milk will be fine. People often ask if this will 'break their fast,' but fasting is not an on/off switch so you don't have to worry about it.
Does coffee break my fast?
After any calorie consumption, you will no longer be fasting. But the question is, does that matter?
I'd argue not. Think about why you are fasting in the first place.

If it's because you believe that skipping breakfast will accelerate fat burn, then that is simply not the case.
Sustaining a calorie deficit over time is the only way to lose body fat. Skipping breakfast may help you, but if having a splash of milk or spoon of sugar in your morning coffee makes life better, and you find it easier to sustain your diet, please feel free to do that! I do.
Do BCAAs break my fast?
Any calorie consumption will break your fast, but fasting is not an on/off switch. Taking BCAAs prior to training to prevent muscle breakdown (or even better, a scoop of whey protein) is more important. Sure, you're not technically fasting anymore, but it's more important to have amino acids in your bloodstream. (More on this here: Training Fasted? Take Whey, not BCAAs)

Lastly, if you're fasting for the claimed health benefits, I'd just point out that the most important thing you can do for your health is to unfatten yourself. So, just make sure you don't put the cart before the horse. This guide explains the best timing for BCAAs and whey.
---
What To Do Next
Go calculate your Leangains calorie and macro targets. You can do that in 60 seconds using the calculator in my How To Calculate Your Leangains Macros guide.
If you've done that already, I'd recommend you educate yourself a little more deeply and download my free nutrition setup guide PDF.
It's easy and fun to read, and you'll get that warm, fuzzy, smug feeling from knowing more than 99% of the bros in your gym about nutrition. Just pop your email address in the box below.
If you have a question at any time, just ask me in the comments on any article. I've answered ~20,000 as of the time of writing.