I created a guide for coaching clients on how to stay on target during this uncertain time. The email and videos I sent them were so popular, they asked me to put it here on the site for everyone.
If you have any ideas on how to make this better, leave a comment. I am updating this daily to improve it when I get new ideas.
Last Updated: March 21st. (Videos added.)
---
THOUGHTS ON HOW TO STAY ON TARGET AS THE CORONA SPREADS AND DAILY INCONVENIENCES HAPPEN
With the right attitude (and tools), the inconveniences that will come upon us in the coming months do not have to derail our goals.
The idea of this email is to give you these "tools" in advance so that if you need them they are here for you. Here are the two original videos I created for clients.
First, the two original videos I shared with clients, but if you prefer text keep scrolling.
Nutrition and Mindset Advice for the Corona Lockdown
Training Advice for the Corona Lockdown
For those who prefer to read, I have made detailed summary notes below which should cover it.
---
NUTRITION: This is Your Opportunity To Execute Savage Consistency and Create Lasting Change
We're all going to be eating out less. So the social pressures that commonly derail us will not stand in our way. This means that you'll consistently be eating at home and your overall adherence should increase during this period.
Make sure your home environment there is working for you, not against you. So, before you hit the supermarket, write a list of what you will need and buy only what is on that list (no impulse buying of snacks and treats). This way, you'll have what you need in the house ready.
Remove all the shit you shouldn't eat out of the house, or if you have kids and that's difficult, put it out of sight. This article may be useful: 9 Ways To Fix Your Food Environment To Make Dieting Easier.
Use this time to educate yourself on the principles that go into an effective nutrition plan by reading my Complete Nutrition Setup Guide. It should be a fun read.
If you don't feel ready to count calories and macros yet, you may well be in a position to have success without doing so. See: What To Do Before You Start Counting Macros And Calories.
When you eat out, bear in mind that most restaurant portions are going to have more calories than your budget allows for. So…
Choose sensible options from the menu. If that sensible option comes with a quantity of stuff you don't need…
Don't be afraid to leave something on your plate. Yes, it's bad manners at your mother-in-law's house, but that doesn't apply at a restaurant. (If it's a small one, ask the waiter to tell the chef it was nothing personal.) Eating everything on your plate because "people are hungry on the streets" is a good principle thing to tell your kids, but just flawed logic for an adult. You breaking your diet goals helps no one.
Chew double the amount you usually would. Eating slowly gives your brain time to register that you are full, which can help minimize the risk of overeating.
Drink two tall glasses of water prior to ordering. This can help minimize how much you eat.
When things do not go to plan, don't beat yourself up about it but do not use that as an excuse for further behavior within your control. Avoid the all-or-nothing mindset trap.
---
TRAINING: HOW TO ADAPT YOUR TRAINING PLAN FOR HOME AND STILL GET AN EFFECTIVE WORKOUT
If you currently have a workout plan, this section will teach you how to adapt it by looking at it through the lens of the six major movement patterns it involves and substituting appropriate bodyweight exercises.
If you don't have a workout plan, just use the examples given.
Why You Don't Need To Panic
If I were to tell my 24-year-old self that I couldn't hit the gym for a few weeks I think I would have panicked. But I didn't know then what I know now and it's exceptionally freeing.
Just as muscle mass is not gained quickly, it is not lost quickly either.
It takes a prolonged period of inactivity to lose a noticeable amount of muscle mass.
Any muscle mass lost is regained far more quickly than it took to initially build it.
The training stimulus needed to maintain muscle mass is far less than needed to build more.
Strength is lost fairly quickly but comes back quickly.
This all means that even if you can't train exactly as planned, as long as you do what you can (which the rest of this will explain) you will be fine!
I have also added the suggestions below to the color-coded "Exercise Video Database" spreadsheet that I share with clients and I'm sharing with you here: click to download Excel or Numbers versions. (No email address needed.)
Identifying The Six Movement Patterns
Almost all decent workouts are built around six movement patterns…
Horizontal Pull
Horizontal Push
Vertical Pull
Vertical Push
Hip Hinge
Squat
When I program them, they usually include the following exercises:
Horizontal Pull:
Horizontal Push:

BB/DB Bench Presses, Push-ups

Vertical Pull:

Lat. Pull-downs, Chin-ups, Pull-ups

Vertical Push:

DB/BB Overhead Presses, Landmine Presses

Hip Hinge:

Deadlift Variants, Barbell Hip-thrusts

Squat:

BB Squat Variants, Leg Presses
Take a moment to identify what category the exercises in your current program fall into. Ignore the isolation movements for now, like bicep curls, tricep extensions, lateral raises, calf work, and any ab work you may do.
Training At A Less-Than-Ideally-Equipped Gym
If your gym closes and you're fortunate to be able to use another one with different equipment, we need to think in terms of what we can do to substitute these exercises.
Let's say there is no squat rack or barbell, the heaviest dumbbell is lighter than ideal, but it has a full suite of machines. Here are some example substitutions:
Horizontal Pull:

Rowing Variants >> Seated or Chest-supported Row Machine, DB Rows

Horizontal Push:

BB/DB Bench Presses, Push-ups >> Chest Press Machine, DB Alternating Chest Press

Vertical Pull: Lat. Pull-downs, Chin-ups, Pull-ups >> No Change
Vertical Push: BB Overhead Presses, Landmine Presses >> Shoulder Press Machine, DB Overhead Press
Hip Hinge:

Deadlift Variants, Barbell Hip-thrusts >> 2-Arm, 1-Leg Romanian Deadlifts (RDLs)

Squat:

BB Squat Variants, Leg Presses >> Leg Press, Goblet Squats, DB Lunges
(Again, links to all of these exercises are in the spreadsheet above. I'll add them to the article later.)
---
Training At Home
If you don't have access to any regular gym equipment, don't panic, this is me and many of my clients right now also. We're getting the job done and you can too.
How To load movements
You can fill an empty protein container with water and carry it.
You can fill a backpack full of books.
You can fill another backpack with books and wear it on your front.
You can find a heavy rock in the garden.
You can use resistance bands of varying strengths.
This is the first time I have created any workout videos, but exceptional circumstances require exceptions. We're all in this together. Here we go…
---
Horizontal Pull Options
1. Kitchen Table Bodyweight Rows
To those wondering, the heavy breathing is the sound of the gainz train coming. 😉🚂
(But more seriously, I find that purposefully breathing like I would when lifting a heavy load in the gym reminds me to brace and take every rep seriously, and use good form.)
2. 1-arm Band Rows
3. Ring Rows if you can purchase some gymnastic rings.
---
Horizontal Push Options
1. Bodyweight Push-ups
2. Loaded Backpack Push-ups
3. Band-resisted Push-ups
4. 1-arm push-ups off a desk. (Use various height sturdy objects to adjust the difficulty.)
---
Vertical Pull Options
1. Chin-ups or Pull-ups. You can use a door or a home chin-up bar if you have one. Otherwise, your local park may have a calisthenics area.
Vertical Push Options
1. Half-kneeling Band-resistance 1-arm Overhead Presses
2. Pike push-ups
3. Handstand push-ups (if you can, but this has a high-level movement and isn't suitable for most).
4. Do more horizontal pushes.
---
Hip Hinge Options
1. Single-leg Hip-thrusts — Andy Morgan | RippedBody.com
2. Band-resisted Bodyweight Deadlifts
---
Squat Options
1. Goblet Squats
2. Archer Squats
3. Pistol Squats
4. Bulgarian Split Squats
Arm Options
1. 1-arm Overhead Band-resistance Tricep Extensions
2. Band Bicep Curls
How To Decide Training Intensity, Frequency, Sets, and Reps
As I mentioned in the video I made for clients, if you can…
hit each movement pattern with the same frequency you usually do,
with the same number of sets you usually perform for that movement pattern,
to the same intensity of effort (RPE, meaning, you may need to do higher rep sets so that you go close to failure)
…then you should be good. Feel free to get creative to cover your isolation exercises (biceps, triceps, etc.) if you can, but as those muscles will be trained anyway, I wouldn't worry about this too much.
Also, if you can't do a horizontal pull or a vertical press movement because you have no equipment, I don't think it is a big deal as long as you double up the vertical pull and horizontal press movements.
An Example Of How To Adjust The Novice Bodybuilding Program
To give a specific example. Let's say you have the following in your training program (this is a version of the Novice Bodybuilding Program template that I made for a client), but you have no access to equipment…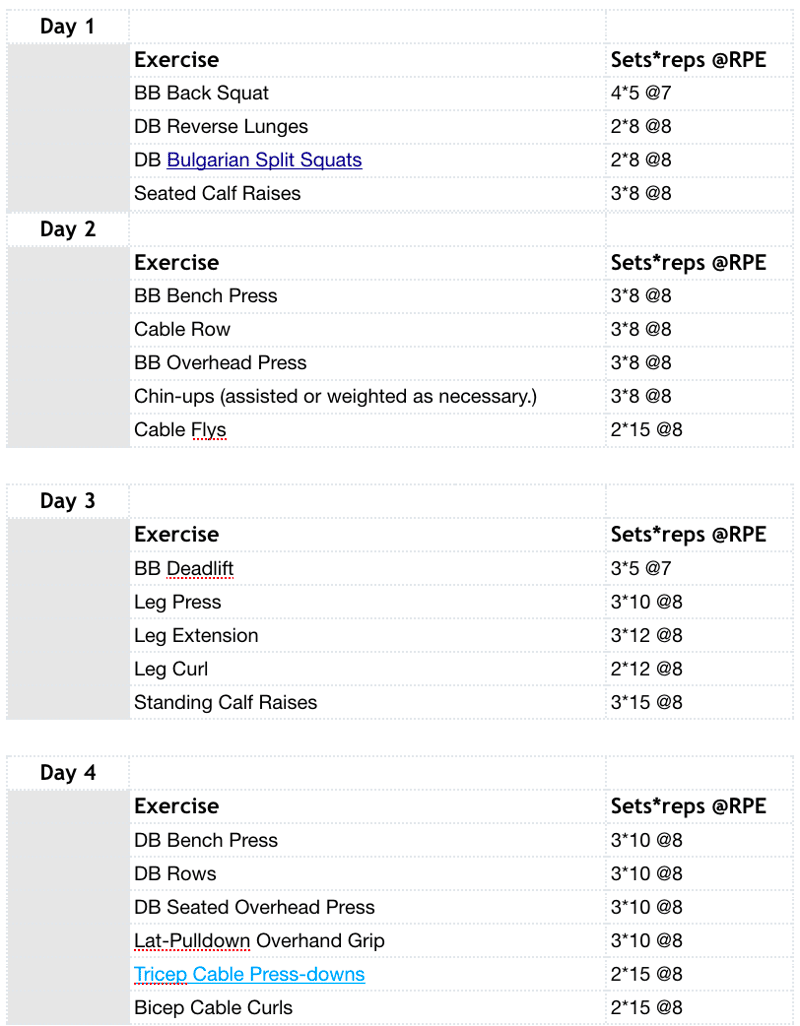 On each day you might do as follows:
Day 1:

Goblet Squats holding a rock to your chest that you have in your garden. -- 4 sets (or Pistol Squats)
Do the lunges to body weight. -- 2 sets
Do the Bulgarian split squats with body weight. -- 2 sets
Calf raises, standing, using bodyweight on a curb or rock. -- 3 sets (feel free to skip)


Day 2:

Push-ups -- 6 sets (because you can't overhead press)
TRX Rows -- 3 sets
Overhead press -- 0 sets (skipped, unless you can find a way)
Chin-ups -- 3 sets (6 sets if you can't row, band-assisted if necessary.)
Cable Flys -- 0 sets (skipped, unless you can find a way)

Day 3:

Hip Thrust -- 3 sets
Goblet Squats (or Pistol Squats) -- 3 sets
Leg extension/curl -- 0 sets (skipped, unless you can find a way)
Calf raises, standing, using bodyweight on a curb or rock. -- 3 sets (feel free to skip)

Day 4:

Push-ups -- 6 sets (because you can't overhead press)
TRX Rows -- 3 sets
Pull-ups -- 3 sets (6 sets if you can't row, band-assisted if necessary.)
Triceps/biceps -- 0 sets (skipped, unless you can find a way)
For every exercise, you'll do as many reps as necessary to reach the same intensity of effort (RPE) you usually do. For an explanation of RPE, see halfway down my novice bodybuilding program article.
---
Again, please feel free to share this email to any friends you think may find it useful at this time. Please tell them that if they'd like to join you in receiving my bi-weekly emails, they can sign up with one step here.
If you have any questions, I am here to help. I'll do my best to answer emails over this weekend. I'll collect all Q&As and put them in the comments of the article (once I get it up on the site).
It's not my place to give health information but just beware of the bad information out there. The WHO's page on COVID-19 is legit.
Thank you. Stay well.