This is the sample Intermediate Powerlifting Program from our Muscle and Strength Pyramid training book.
The explanation section there spans multiple pages, so I have cut it down to give just the overview, relevant notation, and exercise selection explanations.
This, along with the Intermediate Bodybuilding Program and Detailed Guide to Training Progression articles bring the site up to speed with the level of training programming that I typically find myself using with coaching clients nowadays. I hope you find them useful.
If you're unsure whether you should choose this, the novice program, or our bodybuilding programs, consider reading: How to Choose The Right Training Program For You.
---
THE INTERMEDIATE POWERLIFTING ROUTINE OVERVIEW
The Intermediate Powerlifting Program is a four-day program that builds upon the base that was established from the Beginner Powerlifting Program. Volume is increased globally, with a greater increase coming in the form of lower-body and upper-body pushing volume.
Four days are utilized to accommodate the increased volume. Unlike the novice program, there is no three-day option.
Heavy loading accounts for 70% of the main-lift volume while lighter loading accounts for 30%. A similar proportion of volume comes from the competition lifts and accessory movements, respectively.
(If you're interested in why this new version of the powerlifting program differs slightly from that in the first edition of our book in 2015, see the FAQ item on it here.)
HOW THE INTERMEDIATE POWERLIFTING WORKOUT LOOKS
Take a look at the program and then I'll explain the meaning of the '%1RM' and '1st Set RPE' notation and how to use it.
Day 2
Exercise
Sets x Reps
%1RM
1st Set RPE
Back Squat

3 x 1–3

80–85%

5

Bench Press

3 x 1–3

80–85%

5

variations»» Conventional Deadlift or Sumo Deadlift. Choose one or the other and do it consistently on all training days you deadliftclose

3 x 1–3

80–85%

5

Vertical Push

variations»» Overhead Barbell Press or Dumbbell Press(standing or seated), Landmine Pressclose

3 x 3–6

NA

8
*NA = not applicable for that exercise.
---
HOW TO USE THE PROGRAM
WARMING-UP
Warm-up before you train so that your core temperature is raised, you're ready to lift heavy and less likely to cause yourself an injury. Here's my guide to warming up.
FORM
Unlike what many people say, there isn't "one correct way" to squat, bench, or deadlift. The key to getting strong, staying uninjured, and growing a ton of muscle is learning how to lift in a way that suits the mechanics of your body. Here are our three free mega-guides teaching you how to do that:
EXERCISE SELECTION FOR YOUR POWERLIFTING WORKOUT
Skill development is more important to a powerlifter than a bodybuilder, so the variety of exercises used is fewer by comparison.
Higher volumes of moderate-intensity work are performed on Day 1 with a squat variation and bench press. I advise a squat variation that allows you to say more upright to give your hips a break if you usually low bar squat: front, high-bar, or safety-bar versions.
Accessory movements are trained for both strength and hypertrophy on all days, and Day 2 is dedicated to heavy technique work with the competition lifts.
Strength work is spread between Day 3 and 4 with squats and bench press being trained for strength on Day 3, and then the deadlift trained for strength on Day 4 with some moderate load work on a bench variation.
Bench variants refer to alterations to your competition bench, such as a closer or wider grip, board presses, flat back or feet up, longer pauses (e.g. 2 count bench), or bench press with accommodating resistance. Close-grip bench press should not be performed with an extremely close grip, rather just closer relative to your competition bench press grip width. The closest the grip width should be is a width similar to that of a push up performed with the elbows tucked at your sides.
If you are an intermediate powerlifter and you aware of any specific technical faults well suited to a specific bench variant (see the weak point discussion in Level 4 of our book) this is a good place to use that variant.
Ideally to allow recovery between heavy competition lift training, place a day off between Day 3 and 4 if possible.
Additionally, a second horizontal pull (I advise a free weight option for the heavier rowing session) and a bench and squat variation are added to round out development and ensure that no "weak links in the chain" occur now that the foundations of technical skill have been established.
POWERLIFTING PROGRAM REST PERIODS
For powerlifting programs, it's best to rest for as long as is needed to be recovered and ready to perform the next set. This will typically be ~2–4 minutes. (The more musculature the exercise uses and the stronger you get, the longer you'll need.) Two minutes may be plenty for a novice squatting, but a high-level lifter may need five.
---
THE PROGRESSION METHOD FOR THE INTERMEDIATE POWERLIFTING PROGRAM
Now that you have some weight training experience under your belt, RPE based on reps in reserve (RIR) can be more accurately used; you should be able to tell with reasonable accuracy how many reps you have in the tank.
For this reason, load progression will be based more on RIR than it is a percentage of 1-rep max (%1RM). The %1RM is more used as a reference.
As a reminder, 'RPE' stands for Rate of Perceived Exertion based on Reps in Reserve. It is a means of managing fatigue which can help recovery and growth, telling you how many reps, ideally, you will stay short of failure.
While you will aim to add load each session, on a scale of 1–10, 7 means to stop the set when you could perform 3 more reps. 8 means to stop when you have 2 more reps in reserve.
| | |
| --- | --- |
| RPE Number | Meaning |
| 10 | Could not do more reps or load without form failure |
| 9.5 | Could not do more reps, could do slightly more load |
| 9 | Could do 1 more rep |
| 8.5 | Could definitely do 1 more reps, chance at 2 |
| 8 | Could do 2 more reps |
| 7.5 | Could definitely do 2 more reps, chance at 3 |
| 7 | Could do 3 more reps |
| 5-6 | Could do 4-6 more reps |
| 1-4 | Very light to light effort |
Add a little weight to each exercise every session whenever you are able to do so, then move onto my intermediate progression rules.
As an intermediate, a periodized approach to progression is utilized rather than the single-factor progression model that was used as a novice. A linear periodization model is utilized in a wave loading format for all lifts on a week to week basis.
Intensity will go up over the course of a four-week cycle, while volume will come down. Like the novice program, each day of each week is progressed independently, meaning, you will not compare Day 1 to Day 2 or Day 2 to Day 3, but each exercise progression continues from the same day the previous week.
A daily undulating model is still the approach used on a week-to-week basis in a similar manner to the beginner powerlifting program.
Savvy readers will realize that they can create versions of this powerlifting program geared more towards accumulating volume or more towards intensification (determined by the time point in the season) by simply increasing or decreasing the rep range and loads. For example:
To make this powerlifting program more volume focused a lift performed for 3 to 5 repetitions at 82.5 to 87.5% of 1RM could instead be performed for 4 to 6 repetitions at 80 to 85% of 1RM.
To make this powerlifting program more intensity focused, a lift performed for 3 to 5 repetitions at 82.5% to 87.5% of 1RM could instead be performed for 2 to 4 repetitions at 85 to 90% of 1RM.
---
INTERMEDIATE POWERLIFTING PROGRAM FAQ
What is the best powerlifting program?
The best powerlifting program is one you enjoy doing, can sustain, and allows you sufficient practice at the Big 3 lifts to progress. For intermediate lifters, four days should be enough. This article contains the sample routine from our popular book, The Muscle and Strength Pyramids, but we don't pretend it is the only way to structure a program.
How do you structure a powerlifting program?
I recommend that you structure a program using a daily undulating model, where hypertrophy, power (heavy technique work), and strength are trained alternately.

Training with a lack of variation in load or volume is not only psychologically monotonous but also has been shown to increase the chance of overtraining, degrade performance, increase the frequency of illness; and when training that is highly monotonous (little variation in load and volume) is made less so, increases in performance occur. For these reasons, I recommend that you use different rep and load combinations on different days, as we have in this sample program.
Can you get ripped powerlifting?
To get the "ripped" look, you need a muscled body and low body fat. Powerlifting programs like this intermediate sample program will build a muscled body, but dietary control is what will help you to lose fat and give you defined abs. Combine this with my nutrition setup guide to get ripped.
Can beginners do powerlifting?
Yes, beginners can do powerlifting, though it would be a good idea to spend 6–12 months training so that you are proficient at the lifts before entering any competitions where you'll be required to push yourself to a 1-rep maximum attempt. Here is our powerlifting program for beginners.
Can I re-organize the order of the training days or the days off of the powerlifting program?
Ideally, you'll do this: Day 1, Day 2, Off, Day 3, Off, Day 4, Off, because that is what most people will likely recover from best.

However, in life, there is what is ideal and what is practical and sustainable for you. Re-arrange things if you have a good reason to do so. Try not to have more than two days of training back to back.
Isn't the second day too easy?
The second day is purposefully a low-volume, low-rep, 'technique practice at high load' strength focus day. It's natural to not feel as challenged. Remember, the goal is not to hit the gym and hammer yourself as hard as you can every time. This will compromise recovery. Your goal is to deliver the right amount of training stimulus needed to get stronger and grow, then allow that to happen by eating well and sleeping well. Resist the temptation to always do more.
Can I add exercises or sets to the powerlifting program?
Well, you could, but the weight of the evidence suggests 10–20 hard sets per muscle/group or movement is an appropriate volume to prescribe when no foreknowledge of individual needs/tolerance/genetics exist.
The novice programs on this site provide a number of sets per movement/muscle group towards the low end of 10–20, this intermediate program towards the middle, and the advanced programs (in the book) towards the upper end.

This may or may not be less volume than what you are already doing, what you like to do, what 'feels' right or compared to other popular programs or what your favorite athlete or influencer does or suggests. But, unless you are an experienced lifter who knows from well-recorded observations over years what your specific volume needs are, I'd advise at least trying to progress using similar volumes to what we recommend first, before deciding it's too low.

If you don't make progress just do more volume. But in my experience as a coach, it's just as likely (if not more likely) that you could progress just as well, if not faster, with a lower volume.

In short: Do enough to progress, not as much as possible. Increase training volume when plateaued if you are recovering well. More on this in my guide on breaking training plateaus.
---
AN IMPORTANT NOTE ON SAMPLE powerlifting PROGRAMS
It's important to note that the primary purpose of this program is actually not for you just to take it and use it exactly as written.
By definition, a sample program cannot be optimal for you, because it is not specific to you and your needs. The programs in our book can get close, as they allow you to match up your goal (powerlifting or bodybuilding) and your experience level (novice, intermediate, or advanced) to the program, and in some spots they allow you freedom to choose a variation on an exercise or the schedule to fit your needs, but they still aren't truly individualized programs.
Individuality is key to long-term success, and just like it's not a good idea to use someone else's diet regardless of whether your maintenance calorie intake or initial body-fat percentage is similar to theirs or not, it's also not a good idea to jump into a program regardless of how the volume, intensity, or frequency of the program compares to what you are currently adapted to.
The idea behind presenting multiple sample programs in the book is that instead of readers seeing them as "the be all end all" that they just jump right into, they use them primarily as learning tools. The programs are the synthesis of the entire Training Pyramid, combining the concepts presented throughout the book into usable systems. By examining the sample programs they are looking at only a few of the possible iterations of the concepts embodied in the text. Trainers will be able to use the sample programs to help them learn how to create customized programs for their clients, and athletes will use the programs to help them design a more individualized plan for themselves.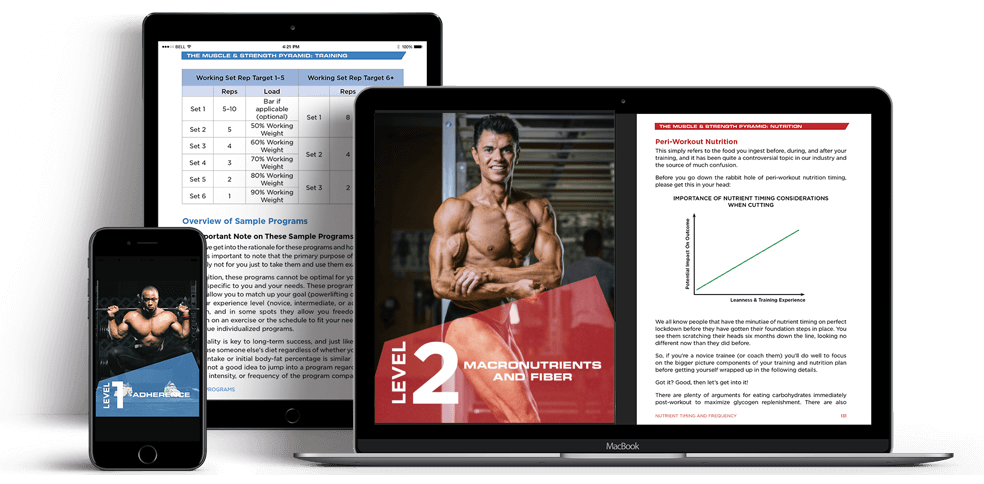 If you have found this helpful, you might be pleased to know it is just a small section taken from our Muscle and Strength Pyramid books.
Join over 100,000 other readers. Get your digital or physical copies here.
Thank you for reading. Questions welcomed in the comments.