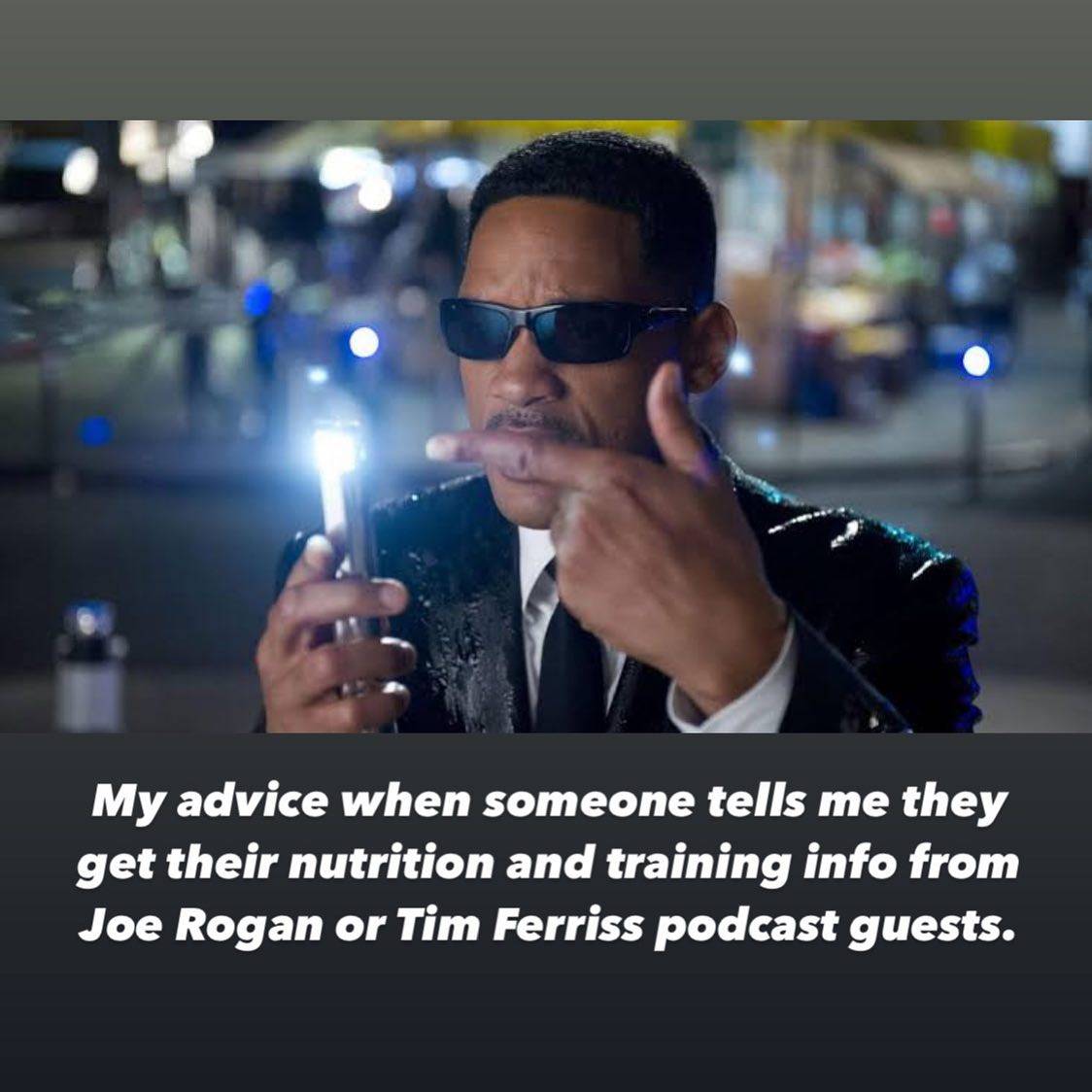 I shared the meme above on my Instagram recently that had a pretty divisive reaction.
Whenever someone tells me they listened to a Tim Ferriss or Joe Rogan podcast and want to ask my thoughts on what they heard, I wish I could whip out that memory wiping device from Men in Black.
I stopped listening when I thought to myself, "If I can see that many of the guests in the areas I know about are talking nonsense, what's to say it's any better in fields I know nothing about?"
Now, I realize that with over 200 million monthly downloads between them, this may come as a surprising statement, and it may seem like I'm insulting one of your favorite people.
But hear me out.
Joe and Tim are curious people, excellent interviewers, and they have built up vast audiences.
Their jobs are now to keep selling advertising space by getting on exciting guests.
But unfortunately, when it comes to nutrition and training (nutrition especially), this leads to smart-sounding BS artists being invited on, who brand themselves as 'cutting edge.'
The science behind cutting-edge ideas is, by definition, immature. And I've heard plenty of exaggerated claims, flawed logic, and pure speculation stated as fact.
Now, I'm not saying that Tim nor Joe do this maliciously — they aren't subject matter experts, so they don't necessarily realize they are giving these people a voice.
But Tim's 'biohacker' persona blinds him to the fact that sometimes there isn't a shortcut and the right answer is boring and slow. And Joe's financial incentives aren't to look too deeply into it — heis a major investor in the supplement company, Onnit.
When you don't know enough to pick apart the good guests from the bad, it's best not to listen in the first place. It's the most prudent way to protect yourself from being fed some insidious broscience. We have to choose our information sources wisely. Popular entertainment isn't the place for serious learning. I recommend The Stronger by Science Podcast and The Sigma Nutrition Podcast for that.
---
I like both of these people, and it gives me no pleasure to send this email. Joe's UFC commentary is excellent. Tim's book The 4 Hour Work Week inspired me to start my website in 2011 — I am exceptionally grateful for that and have told him so in person.
I'm not saying that all the guests in the nutrition and training fields have been bad, but I can't offer to give opinions on specific guests. It's not always black and white, and I prefer to criticize ideas, not people.
Thank you. 🙏🏻